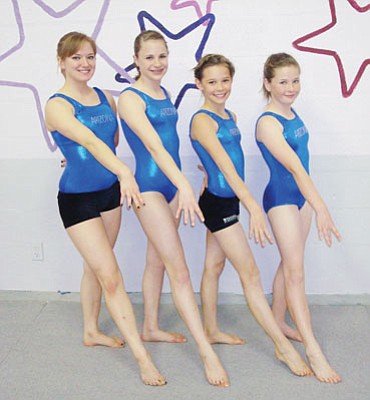 Originally Published: April 9, 2010 6 a.m.
KINGMAN - All Starz Academy sent six gymnasts to the Arizona Optional State Championships March 19-21 in Chandler, and four earned their way to the USA Gymnastics Junior Olympic regional taking place this weekend in Long Beach, Calif.
Leigh Becker, 18, won silver at the state competition in the vault, bars, beam, floor and all-around in Level 9. Briana Mecom, 13, won silver on the beam and placed fourth on the vault, bars, floor and all-around.
Brooke McFarland, 11, and Sydney Tribbett, 14, advanced to regionals as well in Level 8. McFarland was seventh on bars and beam, eighth on vault and ninth on floor and all-around. Tribbett was seventh on vault, eighth on bars, beam and all-around, and finished ninth on floor.
"This is a huge accomplishment for a small-town gym to have all four of their athletes qualify," All Starz coach Brandee Proffit said.
In Level 7, Alexis Matthews, 14, placed fifth on beam, sixth on vault, ninth in all-around, 10th on bars and 12th on floor.
Madeline Tribbett placed sixth on floor, seventh on bars and all-around, eighth on beam and 10th on vault.
The Level 4 and 5 gymnasts at All Starz are training for the Spring State Meet April 17-18 in Phoenix. The team's next home meet is the Cartoon Classic April 30-May 2 at the academy. Five other teams from Flagstaff, Phoenix and Prescott will compete against the All Starz. The public is invited. Admission is $8 for those 12 and up and $6 for ages 4-11.
For more information, call (928) 757-1800.
More like this story