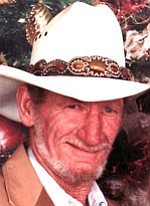 Originally Published: August 29, 2010 6 a.m.
John Aaron Stewart Jr. passed away peacefully at home with his family at his bedside on Thursday, Aug. 26, 2010. He was born in Broken Bow, Okla., on Nov. 23, 1933, however, he lived and worked in the Kingman area for many, many years.
John is survived by his wife, Jackie of Kingman; also his children from Oregon: John (Belinda) Stewart, Terry "Chip" (Nancy) Stewart and Kelly Fischer; from Cottonwood: his son, Gregg (Julie) Stewart; and from Kingman: his sons, Brandon and Cody Ricker.
John had many special talents including carpentry, mechanics and music. He loved to dance and play his country music. He was a talented guitarist and his twangy, country voice will forever be in our memories.
John was an active member of the Eagles, the VFW and the American Legion.
During his lifetime, John touched many, many people with his loving and generous heart. His family and many friends would like everyone to share in a celebration of John's life at 4 p.m. on Saturday, Sept. 4, at the Fraternal Order of Eagles, 4536 Patsy Drive in Kingman.