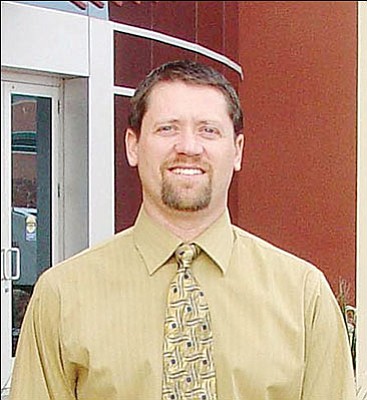 Originally Published: February 10, 2010 6 a.m.
KINGMAN - A scholarship could help the county retain businesses. On Jan. 29, the Arizona Association for Economic Development announced that Bennett Bratley, program representative for Mohave County Economic Development, won a Ben Warren Memorial Scholarship.
The scholarship paid for Bratley's tuition to the Arizona Economic Development Course at the University of Arizona in Tucson, which cost about $675.
The course, which concluded Jan. 29, was four days of intensive study, Bratley said. "We did a case study of a community in Georgia - Brunswick. In the scenario, a company had left the community, and we had to come up with ways to either bring in another company or create some other economic development in the area. We were divided into teams to give presentations. Our team actually won in the group for presenting the best plan for bringing in another company."
Bratley has been with Mohave County Economic Development for five months.
"A lot of what I am doing right now is business retention interviews with local industry for the B3 (Building Bridges to Business) program," he said. "Presently, I am working with Kingman Airport and Industrial Park Economic Development Director Bob Riley doing interviews at manufacturing firms at the airport.
"Later this month, I will head to Bullhead City to train some people at BREDA (Bullhead Regional Economic Development Authority) so they can begin doing B3 interviews."
Mohave County's B3 program is implemented through partnerships with the Kingman Airport Authority, Lake Havasu Partnership for Economic Development and BREDA. According to the Mohave County Web site, "Building Bridges to Business is a business retention and expansion tool that addresses the needs of existing businesses throughout Mohave County. Using a combination of sophisticated survey instruments and customized computer software, the program evaluates each company's value to the community, growth potential and risk of relocation or downsizing."
"A lot of our airport industries are construction based," Bratley said. "They have been hit hard by the economic downturn, but they are still there. Our work is to help in retention for now. When the economy turns around, most of our new jobs will be coming from these present companies rehiring and expanding."
Bratley grew up in a small town in Illinois.
"Cedarville has a population of about 750 people," he said. "It is about five miles out of Freeport, with about 25,000 people, which is famous for the Lincoln Douglas debate.
Cedarville is the birthplace of Jane Adams, who founded Hull House and, in 1931, became the first American woman to receive the Nobel Peace Prize.
Bratley's wife, Kimbra, is a homemaker who is home-schooling their four children.
"It's a good thing being back in a small town," he said.
"When you are raising a family, it is best to live in a small town. We have 30 chickens and we enjoy the rural feel of the Kingman area. We are still close enough to California that I can go back now and then to manage our real estate holdings."
And, although the economy is still a bit tricky these days, "I hope to be of assistance to our local business community with their retention and, hopefully soon, expansion efforts," Bratley said.