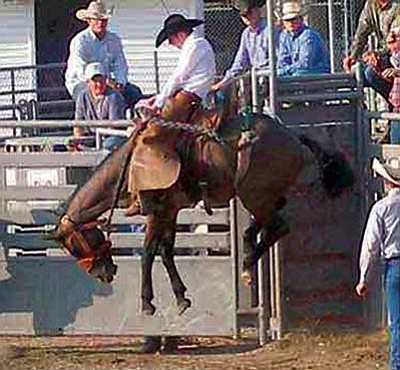 Originally Published: July 18, 2010 6:01 a.m.
KINGMAN - The life of a cowboy is just as hard as it was in the Wild West. It's a 24-hour-a-day, seven-days-a-week job that involves working with heavy animals and equipment, sometimes for very little pay. And being a cowboy today can be just as dangerous as it was 100 years ago, as Lat Morrow found out on June 19 when he was severely injured during a ranch rodeo in Colorado.
Ranch rodeos are a way for cowboys and ranch hands to blow off some steam, said Lat's mother, Teresa Morrow. Teresa's worked in ranching herself for a number of years and now lives in Kingman.
Lat has been working as a cowboy at ranches all over the West for the last 14 years, she said. "The funny thing is, that as a kid he hated horses. Then he turned 19 or 20 and all he wanted to do was work with horses."
Ranch rodeos have slightly different events than a circuit rodeo, such as the Andy Devine Days Rodeo, she said. They have roping and riding events, but they focus more on activities that a cowboy might do on a daily basis, such as catching and branding a calf, Theresa said. They're usually a friendly competition between local ranches.
Lat was riding a bronco at such an event when the horse threw him.
"He somersaulted over the horse's head. The horse stepped on him and then kicked off of Lat's side," Teresa said.
"This isn't the first time that Lat has been injured. But we always got the call (about the accident) from him. I knew it was bad when I saw his phone number on my phone, but it was his wife on the other end," said Jimi Hammond, Lat's sister. Jimi is a veterinarian tech at Wright Veterinarian Services in Kingman.
Lat ended up with several broken ribs and major damage to his spleen, kidneys and other vital organs, Teresa said. He had two major surgeries the first night he was in the hospital to repair some of the damage and spent the next four weeks in the intensive care unit battling pneumonia. He was released from the hospital on July 11, she said.
Lat didn't have health insurance, Teresa said. He and his wife had just gotten married on June 2 and were planning to put Lat on her health insurance but hadn't gotten the paperwork yet. Lucky for them the insurance company was willing to add Lat to the policy and backdate it to the date of the accident, she said.
Lat's out of the hospital but still has a long road to recovery, Teresa said. Doctors have estimated it may take a year or longer for him to completely heal from the accident, she said.
A few people and organizations have already come forward to help raise funds to cover Lat's medical bills. A benefit roping contest was held in Colorado to raise funds, and DMS Events in Kingman, owned by Danielle Sorace, is holding a fun run and benefit for Lat starting at 6 p.m. on Saturday, July 24 at the Castle Rock Arena, north of Kingman on U.S. 93. Horse riders of all ages are encouraged to enter, and all residents, whether they ride horses or not, are welcome to attend.
Sorace already had the event planned, but when she heard about Lat's accident, she decided to turn part of the proceeds over to the Morrows, Teresa said. A used tack sale and raffle to raise funds for Lat will also be held at the event. And depending on how well he feels, Lat might make the trip himself.
"He's already promised me and his niece that he won't bronc ride again. In fact, he sent me a photo of the belt buckle he won for the event; with the words 'Was it worth my life? I don't think so.'" Jimi said. "We'll see how long that lasts."
For more information on the DMS Fun Run, contact Danielle Sorace at (928) 692-0199. For more information on the Lat Morrow benefit, contact Roseane Brown at (928) 530-5541.
The Morrow family has also set up a donation account at Chase Bank on Stockton Hill Road.
The account number is 296445338.