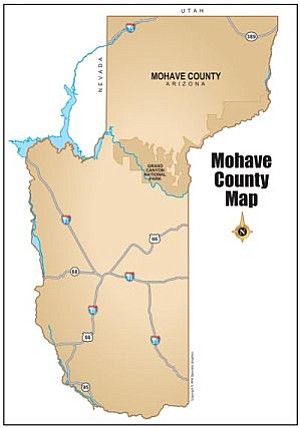 Originally Published: May 6, 2010 6:01 a.m.
KINGMAN - A Golden Valley man is asking for more than $42.3 million in damages from the county for deliberately violating his First Amendment rights.
On March 1, James Kanelos filed an injunction against the county to prevent it from enacting its new polices against politicking on county property, the new gun check system, and a dress code for residents attending meetings. According to Kanelos, Superior Court Judge Lee Jantzen denied the injunction but indicated that he would accept a complaint against the county.
On April 28, Kanelos filed a two-part complaint against the county, the Board of Supervisors, County Attorney Matt Smith, County Manager Ron Walker and Deputy County Attorney Bill Ekstrom.
Ekstrom said he has heard of Kanelos' complaint but did not know the details of the complaint because the county has not yet been served.
"The county has the position that it hasn't done anything inappropriate and hasn't violated anyone's rights," Ekstrom said. "I think there has been a misunderstanding between the Board and individuals which has unfortunately created a great deal of mistrust. I hope to convince Mr. Kanelos and others that there was no malicious intent on the part of the county."
In the first part of his complaint, Kanelos claims that his First Amendment rights were violated in November when Supervisor Buster Johnson asked Golden Valley resident Luca Zanna to stop passing out information about Sen. John McCain's voting record during a town hall meeting.
Kanelos claims that because of Johnson's actions he and others in the building were denied access to information they wanted to receive, violating their First Amendment rights.
He said the county continued to violate his rights when soon after the town hall incident Walker started adding unwritten policies that affected the general public and their attendance at meetings.
Kanelos states that County Supervisors Gary Watson, Tom Sockwell and Johnson violated their oaths of office and several state statutes by supporting the unwritten policies and that Smith and Ekstrom failed to advise the Board and Walker their actions were in violation of the law.
In the second part of the complaint, Kanelos claims it wasn't until the March 1 meeting of the Board that the policies were written down and approved. He claims that no public comments or input were allowed during the meeting or during the creation of the policies.
Kanelos said in the suit that he does not want to unduly burden the taxpayers of Mohave County and seeks minimal damages from the county itself. He asks the court to declare the supervisors, Ekstrom, Smith and Walker as individuals and not protect their actions with their offices.
He asks the court to rule that the new county polices are invalid and unconstitutional; that the supervisors, Walker, Ekstrom and Smith violated his constitutional rights and harmed him by doing so.
Kanelos is asking for more than $39 million in compensatory damages and $432,000 in punitive damages for a total of more than $40 million in his first claim. In his second claim, he asks for $31,500 per day in compensatory and $4,000 per day in punitive damages dating back to March 1, which as of May 5 totaled more than $2.3 million.
"I hope to convince Mr. Kanelos and others that there was no malicious intent on the part of the county."
Bill Ekstrom
Deputy county attorney