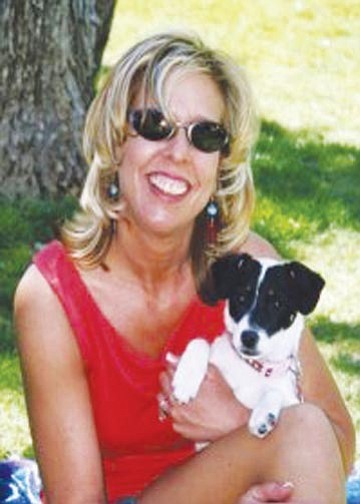 Originally Published: May 23, 2010 6:01 a.m.
KINGMAN - The man who hit and killed a Bullhead City teacher who formerly taught at Kingman High School told the woman's family that he was as remorseful as he could be before being sentenced to 13 years in prison.
Gino Gagliardi pleaded guilty in April to hitting and killing 43-year-old Larissa Castilleja as she was riding her bike shortly before 5 a.m. Sept. 9, 2009. Police say 54-year-old Gagliardi of Fort Mohave had consumed between 13 to 15 drinks of alcohol, including shots of Crown Royal, martinis, daiquiris and beer before getting into his van and driving down Bullhead Parkway.
Gagliardi maintains that two coyotes ran in front of his van and that he didn't realize he had hit anyone until he was arrested at his home later that morning.
Prosecutors say that Gagliardi's behavior after the accident proved otherwise. His right front tire went flat immediately upon impact, but prosecutor Jace Zack said the defendant continued to drive at least a mile before turning away from the direction of lighted areas where he could have changed his tire before abandoning his van on a side street. The van led police to Gagliardi.
Gagliardi then went to a nearby Circle K to call for a cab. Video footage from the store was played in court during Friday's sentencing hearing, which Zack said showed Gagliardi acting nervous.
Gagliardi received an eight-year sentence for a manslaughter charge and an additional five years for attempting to leave the scene of an accident.
Members of families from both sides spoke before Judge Steven Conn handed down his sentence. Gagliardi's family said they struggled with the hit and run charge, saying the man they knew wouldn't have left an injured person on the roadway.
Castilleja's family said they too struggled with the thought of someone hitting their loved one and then leaving her alone on the side of the road to die.
After emotional statements from both sides, each family seemed to acknowledge the pain of the other. Castilleja's father, Robert Wrench, approached Gagliardi during a break in the 2-1/2-hour hearing, telling the man that killed his daughter that he would help him get the help he needs after Gagliardi served his sentence.
Gagliardi was said to have struggled with alcohol and was cited for driving under the influence in Laughlin, Nev., in 2008. That charge was unresolved at the time of the accident.
Castilleja was a teacher at Kingman High School from 2001 to 2005 before moving to Bullhead City five years ago to teach at Mohave High. She was described by students as a selfless teacher who took an active interest in the lives of those she taught. She had interviewed for the head of her department the day before her death and never learned she had been granted the position.
Castilleja served in the U.S. Army from 1987 to 1991 as a specialist stationed in Schofield Barracks, Hawaii, and Fort Hood, Texas. Her fiancé, police officer Troy Teske, said he was continually impressed by the woman he described as the love of his life. "She once asked me if I would teach her to shoot a pistol because all she knew how to shoot was an M-16," he said. "That tiny, proper lady was amazing and tough as nails."
Gagliardi apologized to Castilleja's family, saying he cried nightly about her death. He maintains that coyotes ran in front of his van, which caused him to swerve and hit the woman.