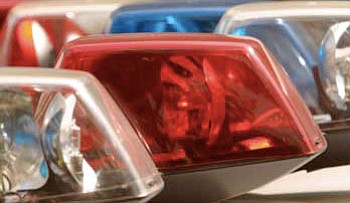 Originally Published: October 22, 2010 6:01 a.m.
KINGMAN - An argument between neighbors ended in shots fired and the arrest of a Kingman man on multiple felony charges Tuesday.
Mikloas Veszelovsky, 31, is charged with 11 counts of aggravated assault and misconduct involving a weapon in connection with the incident. His girlfriend also faces felony charges for lying to police.
Kingman Police Lt. Rusty Cooper said it's not clear what prompted the argument between residents at the corner of N. Evans Street and Pacific Avenue around 5:30 p.m. Tuesday.
Cooper said Veszelovsky and 25-year-old Lacy Marie Powers, who is believed to be his girlfriend, were part of a crowd of around half a dozen people involved in the argument, which escalated when Veszelovsky reportedly brandished a handgun and pointed it at the others.
He then reportedly fired the gun several times in the air while making verbal threats.
Officers stopped Veszelovsky and Powers as they fled the scene in a car. Powers is charged with hindering prosecution for allegedly trying to intentionally mislead officers during their investigation.
Both were booked into the Mohave County Jail. No injuries were reported.