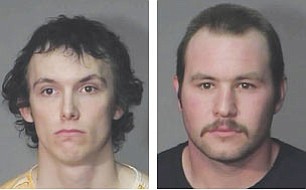 Originally Published: September 1, 2010 6 a.m.
KINGMAN - A 20-year-old Kingman man who used a BB gun to rob a convenience store in April has been sentenced to five years in prison.
Jeffrey S. Malcolm pleaded guilty to armed robbery earlier this summer. He was one of two people involved in the April 2 robbery of the Circle K on Kingman Avenue. Malcolm reportedly entered the store just after midnight and pointed the gun at the clerk while it was concealed in the front pocket of a hooded sweatshirt.
The second suspect in the robbery, 22-year-old Robert Roberts, drove the getaway car. The pair was stopped by a Kingman police officer who was responding to the call.
Roberts was arrested by the officer. Malcolm ran from the scene but was arrested at a home he had been staying at later that night.
According to police, the robbery netted less than $250 and four cartons of cigarettes. The stolen items were recovered by police after Malcolm dropped them when he fled.
Roberts also pleaded guilty to armed robbery. He was sentenced last month to nine months in the Mohave County Jail, followed by five years probation.
Judge Rick Williams, who handled both cases, said Malcolm's lengthier sentence was the result of his role of being the gunman in the robbery.
Roberts also had no previous contacts with law enforcement, while Malcolm had a handful of misdemeanor convictions ranging from criminal damage to possession of drug paraphernalia.