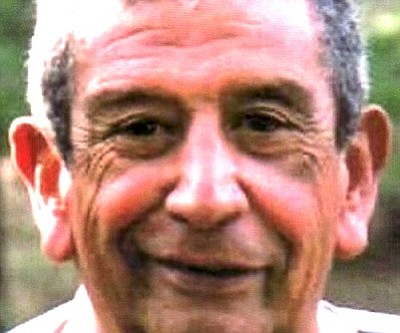 Originally Published: December 20, 2011 6:01 a.m.
Tiburcio Juan "Butch" Esquibel entered into rest on Thursday, Dec. 15, 2011, at the Joan and Diana Hospice House. He was born in Kingman Aug. 13, 1930. He attended elementary school in Wikieup and Kingman. His childhood years were spent learning cowboy skills at the family ranch in Wikieup. He enjoyed playing guard on the Bulldog basketball team until his graduation from Mohave County Union High School.
After graduation, Butch married Celia Murillo in 1953. He served in the local unit of the National Guard for five years. The couple was blessed with three girls and two grandchildren. Butch was employed by the Gates family at Central Commercial for ten years, delivering furniture as far as Hackberry. He also worked for the Farley Rock Shop, cutting and polishing petrified wood, amethyst, and agate into bookends, bolo ties and earrings. During that time he also worked for Ennis Vaughn at his Chevron station until 1972. He was employed by the City of Kingman Water Department until his retirement in 1992. In his spare time, Butch enjoyed working with wood, making toy boxes for his two grandsons and knick-knack shelves for his home.
Butch's life was defined by his dedication to his family. Family values were important to him and he worked hard to instill love and respect in his three daughters. He often volunteered to drive the Kingman High School cheerleaders to away games and to camp in Safford, Thatcher, and Tucson. Everyone loved his kind smile and gentle ways. No trip was complete for the squad without a visit to the ice cream parlor. He was an outdoorsman and skilled hunter, teaching the young men in the family outdoor skills. He supplied the family table with dove, rabbits, deer and elk as soon as hunting season came around each year. Most people considered him to be the consummate cowboy gentleman who never met a stranger. No matter where he was he would strike up a friendly conversation with the nearest person.
Butch is survived by Celia Esquibel, his wife of 58 years, and his three daughters, Viola (Dean) Pethers, Patty (George) Sedich, and Lisa (Kevin) Julle. He leaves two grandsons, Tyler and Kyle Julle, and two brothers, Lawrence Esquibel and Ramon Montez.
Visitation followed by a rosary will be from 5 to 7 p.m. Thursday, Dec. 22, at Sutton Memorial Funeral Home, 1701 Sycamore Ave. A funeral mass will be held at 11:30 a.m. Friday, Dec. 23, at St. Mary's Catholic Church, 302 E. Spring St.
In lieu of flowers, the family suggests a donation in Butch's memory to the Joan and Diana Hospice House, 812 Airway Ave., Kingman, AZ 86409.