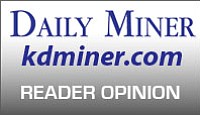 Originally Published: July 4, 2011 6:01 a.m.
Recently, the Soroptimists International of Kingman generously gave Angel Manor $2,000 to help support our recovery program for women.
Angel Manor is a home for women in drug and alcohol recovery. Most women who come through our doors work very hard to get their lives back on track.
The $2,000 will be used to replace and enlarge our front porch, which is greatly needed.
Thank you again Soroptimists for this wonderful gift and for all you do in our community in helping women in need.
Wendy Rapp
Director of Angel Manor
Kingman