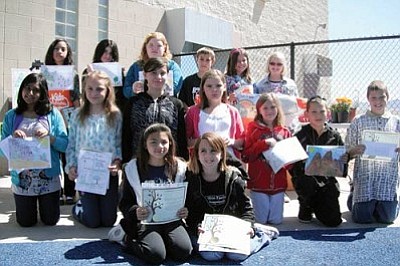 Originally Published: May 29, 2011 6 a.m.
KINGMAN - The Cerbat Garden Club's Arbor Day Poster Contest winners were recognized and received awards April 30. The 22 fifth-grade student winners were: Black Mountain School - 1st Amber Cole, 2nd Renee Borthwick, 3rd Promis Merryman; Cerbat Elementary - 1st Denise Wiley, 2nd Leonae Franks, 3rd Saddianne Ramirez; Hualapai Elementary School - 1st Jerina Gabriel & Melissa Thornton (tie), 2nd Michelle Millhouse, 3rd Angie Madahar; KAOL Intermediate School - 1st Riley Glass, 2nd Bradley Hecker, 3rd Breanna Weber; La Senita Elementary - 1st Dakota Nelson, 2nd Joshua Orand, 3rd Jordan Daves; Manzanita Elementary - 1st Heather Wynkoop, 2nd Serenity Lynch, 3rd Mia Santos; Mt. Tipton School - Honorable Mention Courtney Mossor and Jonnie Reyna Sosa; Palo Christi School - Honorable Mention Payton Willis. The Grand Prize winner was Jerina Gabriel from Hualapai School.
After Mayor John Salem read the Arbor Day Proclamation, a tree-planting demonstration was given by Master Gardeners and five trees were planted on the grounds of the new Desert Willow School, 3770 Prospector Street.