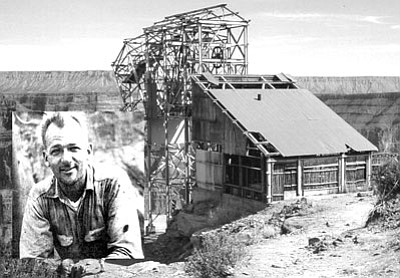 Originally Published: October 19, 2011 6:01 a.m.
Some children spend their childhood thinking their father is a legend. Some of them don't outgrow that feeling and I guess we are in that group.
Burnell Alvin Freiday passed away at the Gardens Care Center in Kingman on Wednesday, Oct. 12, with his daughter B.K. Arnold by his side. Words can't express and money could never repay the gratitude and the debt we boys owe our sister for the many years of care she provided. I am sure Dad is now with Mom and trying to figure how to sneak out to find his many good friends who got there ahead of him.
Burnell Alvin "BA" Freiday was born to Alvin Herman Freidag and Katherine (Steffey) Freidag in Rochelle, Ill., on Oct. 22, 1915. He was predeceased by his parents; his wife of sixty-one years, Mildred Daniels (Leichsenring) Freiday; and his brother, Wallace H. Freiday.
BA was raised by his father, his grandparents and a great many aunts and uncles. Listening to stories told by these now long deceased aunts, it sounded like this was quite a parenting chore for even a group this large.
BA had a long and colorful life and was prone to telling even more colorful stories. He had the good fortune of outliving pretty much all of those who could dispute them. We hope most of what follows is true, but it has been told this way so long it's pretty much folk history.
This list of his occupations is loosely in chronological order and would make it seem he couldn't hold a job. We prefer to think he was just very active:
Pig farmer, squab farmer, wood cutter, movie theater operator, tractor parts inspector, tractor test driver, shrimp boat deckhand, asbestos insulator, circus motorcycle performer, electrician and lineman, Florida National Guard, Army Air Corps, auto mechanic, airplane mechanic, commercial pilot, heavy equipment operator, service station owner and operator, first civilian Kingman airport manager (at its current location), manager of various small manufacturing plants, welder, and founder of Freiday Construction.
His many hobbies included hunting and fishing of all kinds, just about all over the U.S., Canada and Mexico. He played hockey, baseball and football as a child and played for many of the old Kingman baseball teams as an adult. BA loved motorcycle and auto racing and won more than his share of races. He would still get on a motorcycle at an age when common sense should have prevented it. He loved boating and ran boats up the Grand Canyon farther than good judgment or the park service would allow today.
BA served briefly in the Florida National Guard and then enlisted in the Army Air Corps in January 1941 attaining the rank of Master Sergeant three times (problem with authority?). During his military career, he was stationed in San Antonio, Texas; Atlanta, Ga.; Fort Crockett, Texas; Compton, Calif.; Moffett Field, Calif.; and Kingman, Yucca and Lake Havasu (Site 6), Ariz. The highlight of his military career was the building of the R&R base at Site 6, which is now the location of present day Lake Havasu City. BA saw a boat being unloaded at the base in Yucca and thought this could lead to something good. He asked for the task of escorting this boat wherever it was going and got the job of moving the barracks, outfitting the base, and staying on as the acting base commander. A few veterans who spent time at this base after returning from the horrors of war in the Pacific, wrote to say what a good time BA had shown them (we like to think he had his own little McHale's Navy on Lake Havasu).
The job BA was most well known for was as a bat guano (poop) miner. During this time he, his friends and employers constructed first a huge bomber engine powered airboat, a few small tramways, and finally the longest single span tramway ever built at that time, all to mine this precious poop. BA was in Life magazine and on You Asked For It and To Tell The Truth (if you remember these shows you are ordering off the senior menu). A short film of this is on You Tube, type in Bill Freiday; thank you nephew Robert.
BA's record of civic duty spanned many years in Mohave County and included a lifetime membership in the Kingman Elks, The American Legion, the volunteer firemen, first captain of the Hualapai Fire Department, Charter Member and Chairman of the Mohave County Planning and Zoning, Past President of the Contractors Association, Chairman and Charter Member of the Kingman Municipal Utilities Commission, and many advisory boards.
BA is survived by all four of his children, Robert Wayne Freiday, Barbara Kay Arnold (husband, George), William Burnell Freiday (wife, Christie) and Robert Alvin Freiday (wife, Roxanne). He is also survived by 13 grandchildren and 11 great-grandchildren.
This was a long obituary but it was a long, interesting life that would take a pretty big book to tell. We know he will be missed by many as much as we miss him.
Services will be held at 2 p.m. Saturday, Oct. 22, at the Kingman First Assembly of God Church at 1850 Gates Ave. A reception will follow at the Kingman Elks Lodge, 900 Gates Ave.