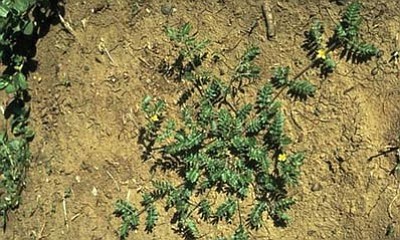 Originally Published: October 23, 2011 6 a.m.
Ouch! Ouch! I just stepped on a goat head and it hurts! These nasty little weeds are also called stickers, sand burs, goat heads and puncture vines. They can penetrate your foot, flatten bicycle tires, and a large patch of them can even flatten the tires on a small car and can ruin a recreation play area.
What in the world are these things? The puncture vine is an invasive species that originally came from Europe. The botanical name is Tribulus terestris. This fast-growing (why are weeds always fast-growing?) annual sends out a low growing, dense mat of tiny leaflets. The stems can grow up to 6 feet in length. A large area can be covered in a few months. Goat heads germinate in spring after soil temperatures reach 55 degrees, bloom in early summer, producing tiny five petaled yellow flowers. The fruit of the puncture vine looks like a spiny five-sided Maltese cross. After the fruit bursts open, the goat head thorns emerge.
The puncture vine is prolific because its thorny seed pods attach themselves to almost anything. Think shoes, pets, kids and tires. Eventually, they drop on the ground. Now they stay dormant, waiting for the right conditions to grow. Seeds can remain dormant for 20 years. Puncture vines prefer vacant lots, alley ways and bare yards. They thrive in dry, sandy soil or gravel beds.
Because the seeds are so hard to kill, a lot of patience is needed to get rid of them. One way is to dig them out. In your lawn, try pulling them out by hand. When the soil is wet, it makes the job easier. Of course, it is best to pull the vines out while they are small and before they bloom. Using a hoe is also a receommended method of removal. Keep an eye on where you first spotted them. More will certainly emerge. Repeated pulling and hoeing is a given.
To rid larger areas, the procedure is more involved. Burning is one recommended method. Many communtities do not allow burning, so let's check out other methods.
Using herbicide, also known as a chemical hoe, is an effective method. Spraying a pre-emergent herbicide prior to germination is effective. Spray in late winter or early spring (i.e. February/March).
Use herbicides containing oryzalin, benefin, or trifluralin. Repeated applications are the norm. Post emergent herbicides can be used as well. This can done after the plants have begun growing. An effective post emergent herbicide should contain 2.4 dichlorophenvy acetic (2,4-D) or glyphosate or dicamba, and these products can be combined. Always read and follow the label. The web has some great information, just direct your search engine to "puncture vine" or "goat head."
The best solution is to prevent them from coming into your yard. Always check your shoes, bicycle tires and pets after a trip around the neighborhood.
Excuse me, but now I've got to eliminate goat heads form my yard. Ouch!