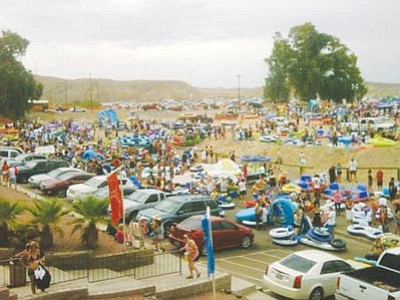 Originally Published: August 7, 2012 6:01 a.m.
River rats who haven't already signed up for this weekend's Bullhead City regatta will have to register in person if they want to join the throngs floating down the Colorado River.
Online registration for this year's River Regatta closed Friday. Those still needing to register will have to do so at the Bullhead City Chamber of Commerce office, located at 1251 Highway 95. The office will be open from 8 a.m. to 5 p.m. Monday through Thursday, from 8 a.m. to 10 p.m. Friday and from 7 a.m. to 1 p.m. Saturday. The cost for last-minute registration is $30.
This year's theme is "True to the red, white and blue," and floaters are encouraged to dress and decorate theirs rafts accordingly.
An estimated 30,000 people are expected to flood Bullhead City and the Colorado River for pre-festivities Thursday and Friday and the main event on Saturday.
Participants on Saturday are asked to follow the special events signs and to park at Rotary Park, where overflow dirt parking will be available. Shuttles will start running at 6 a.m. to take floaters to the starting point at Community Park, where launches will start at 7 a.m.
The eight-mile float is estimated to take about The eight-mile float is estimated to take about three to four hours.
Although it's a party, there are still rules participants will need to follow.
Floaters must be 8 years old and up and everyone must have (and wear) a life jacket, proper shoes (not flip flops) and adequate drinking water. A few vendors will offer tube and life jacket rentals, but availability is not guaranteed.
Floaters are also advised to prepare for scorching temperatures that are forecasted to climb as high as 116 degrees on Saturday.
Organizers hope to avoid a repeat of the large amount of trash revelers left in the water and on the shore by handing out bags to each floater that can then be thrown away at the end of the float at Rotary Park.
The Kiwanis Club will hold its Cannonball Pre-party on Thursday and Friday at the Community Park, with Friday evening's events reserved for those 21 and older.
Organizers advised that only 15,000 tickets are available for each day at $5 each - and once they're gone, they're gone.
Brian Velarde, one of the event's organizers, said about half of the pre-party tickets remained as of Monday. He anticipates both days selling out, with Friday's over-21 party going first.
Activities at the pre-party include a mud volleyball tournament, a karaoke gong-style contest and live music.
Friday's adult-themed evening will include the finals for the beer pong tournament, a foam party and the "Red, White and Blukini" contest.
Times vary. Visit www.kiwaniscannonballparty.com for more details on the pre-party and www.bullheadregatta.com for more details on the float.
Those with questions at the event are directed to the Chamber of Commerce.