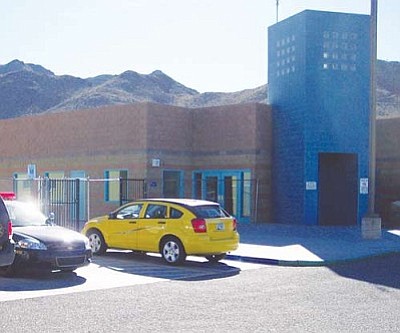 Originally Published: March 6, 2012 6:01 a.m.
KINGMAN - Whether Mount Tipton School continues to serve K-12 students or becomes nothing more than an elementary school remains to be seen, but one thing is for sure: Discussion focused on the issue most likely heats up today.
The Kingman Unified governing board meets at 4 p.m. today, on the heels of last week's Mount Tipton town hall. The board will discuss, among other things, the potential restructuring of the school. Likely present at the meeting will be a large group of Mount Tipton students, teachers and parents ready to share their thoughts with the board, which was not present at the town hall meeting.
The district has been deficit spending, and is now in the position that it must cut $4 million from its budget over the next two fiscal years. Trimming Mount Tipton down to an elementary school will save more than $620,000 over the next two fiscal years.
Out of its fiscal year 2012 general fund, the district is spending over $10,000 per student at Mount Tipton while it spends about $5,500 per student at all other schools. This is predominantly because of the school's low student-to-teacher ratio.
Finances are not the only fuel for this fire. It's been said by members of KUSD staff multiple times that more opportunities for Mount Tipton middle school and high school students are available in Kingman.
This idea doesn't sit well with people opposed to restructuring the school. It's believed that the school's low student-to-teacher ratio is beneficial because it offers students more one-on-one time with teachers. Also, the school received a "B"rating from the Arizona Department of Education, which unlike No Child Left Behind, accounts for student growth.
Opponents of the potential restructure do not believe a better education awaits students in Kingman. In fact, they believe the opposite - that Mount Tipton is better equipped than Kingman to educate students from its community.
There are no plans for the board to make a decision regarding the restructure today, but there is a plan to set a date for the next town hall meeting at Mount Tipton School. Tentatively, that date has been set for March 21, but the board must ultimately decide.
In other business, the board plans to look at the Lee Williams High strategic plan, stipends for tiered employees hired before July 1, and the process by which certified staff can make professional growth lane changes.
Today's meeting starts at 4 p.m. at 3033 MacDonald Ave.