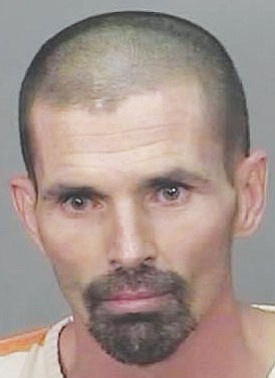 Originally Published: March 11, 2012 6 a.m.
A 39-yar-old Kingman man was sentenced last week to 7½ years in prison for multiple home and car burglaries.
Steven Kelso was also charged with using a handgun to rob the Hualapai Kwik Stop on Hualapai Mountain Road in Dec. 2010, but that armed robbery charge was dismissed under terms of a plea agreement in which Kelso pled guilty to five other burglaries.
Kelso and another man, Sean Anthony Bainer, were arrested the week following the convenience store robbery. Kingman Police, with the assistance of the Bullhead City Police SWAT team, executed a search warrant at a home shared by the two men in the 3000 block of Mallory Loop after getting information about the pair's possible involvement in a number of residential and car burglaries.
As a result of the search, police said they found some of the items that had been stolen, along with the bike Kelso reportedly used when he pedaled away from the robbery at the Kwik stop.
Bainer entered into his own plea deal after his arrest in which he pleaded guilty to possession of drug paraphernalia while two theft charges were dismissed. He served four months in prison and was released last September.
Because of the way the plea deal was written, Kelso was not required to pay back the $3,100 reportedly stolen from the Kwik Stop.