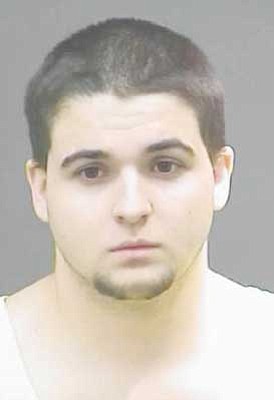 Originally Published: March 16, 2012 6:01 a.m.
KINGMAN - A 22-year-old Kingman man faces up to 27½ years in prison after pleading guilty Thursday to shaking and beating his girlfriend's 13-month-old child to death.
Dustin Colpitts was arrested in January 2011 after he called 911 and reported that he was baby-sitting his girlfriend's baby while her mother was at work when he noticed that the girl, Adriana Sweeney, was having trouble breathing. Kingman Police detectives were called out to the hospital after doctors noticed signs of abuse.
The baby was airlifted to Sunrise Medical Center in Las Vegas where she was declared brain dead that same day.
Colpitts at first said that the baby's injuries, which included bruising on her body and hemorrhaging in the eyes, were the result of his resuscitation efforts. Hemorrhaging of the eyes is a common indicator that a baby has been shaken. According to court files, the baby showed signs of both old and new hemorrhaging and bruising, indicating that the abuse was not a single incident but occurred over a period of time.
A month before the baby's death, Colpitts posted a question on the Internet titled, "How do I make my 1-year-old happy?" He said the baby cried while her mother was at work and asked for advice on how to soothe her.
"When she is not sleeping she is crying," he wrote. "How can I help make her more happy? It hurts me to see her like this."
Colpitts pleaded guilty to manslaughter and child abuse charges. He faces a minimum of 10 years and up to 27½ years in prison when sentenced by Judge Steven Conn April 12.