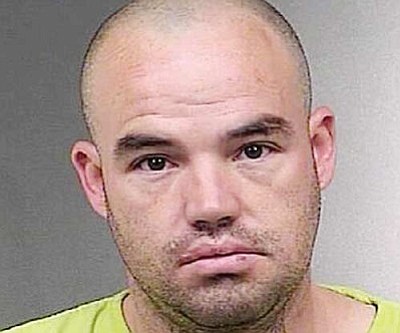 Originally Published: May 6, 2012 6 a.m.
KINGMAN - A man charged with shooting and dismembering a man he said he thought molested his daughter is going to prison for five years on charges unrelated to the murder.
George Loader, 34, was arrested in November on charges that he killed a man staying with his family after the man's release from jail. Loader has claimed that the murder was motivated by a claim by his 3-year-old daughter that she had been touched improperly by the murder victim, 51-year-old John Oppenheim. Detectives with the Mohave County Sheriff's Office said they've been unable to substantiate the girl's claims.
Loader had previous charges involving drugs found during a traffic stop in 2010, as well charges from an incident in April 2011, where Loader is alleged to have held a gun to his niece's head while calling her a liar and "cop caller."
Loader accepted a plea deal that will close those cases in exchange for five years in prison. He won't be formally sentenced until May 21, after which he is expected to be transported between his assigned prison and the Mohave County Superior Courthouse for hearings in the murder trial case.
The latest hearing in that case was Friday afternoon where his attorney, Sandra Carr, petitioned to have the case remanded back to the grand jury on the basis that jurors were never offered manslaughter among options on which to indict.
Oppenheim's charred remains were found at a dirt bike track off of Bank Street a day after he was shot after a member of Loader's family made a call to 911. Authorities who served a search warrant at the Loader home said they found a bloody saw, bloody clothing and a bag of human hair in the garage.