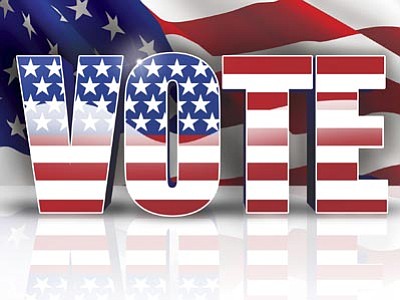 Originally Published: October 1, 2012 6:01 a.m.
A non-partisan candidate forum is set for 5:30 p.m. Oct. 18 in the Golden Valley Fire District Public Safety Training Center, 423 S. Colorado.
The forum will give each candidate the opportunity to provide information about their backgrounds and outline their goals, agendas and priorities are if elected.
Residents will have an opportunity to question candidates.
Invited candidates include Joy Brotherton, Liz Albright, James Clark, John Ford and Norty Turchen for Mohave County District 4 Supervisor; Kingman Unified School District candidates Kevin Burgess, Laurie Voss Barlow, Bruce Ricca and Marvin Robertson; and Golden Valley Fire District Board candidates Rhonda Brooks, Harry Traxler, Duncan Borden IV, Bob Stephens, Louis Tranka, Steve Robinson, Mark Vanik and Vic Colvin.
The forum is a joint effort between Golden Valley Fire Chief Tom O'Donohue, the GVFD and Golden Valley resident Butch Meriwether.
For more information, contact Meriwether via email at meriwether@frontiernet.net or call him at (928) 530-8988.
Both O'Donohue and Meriwether encourage residents to come prepared to ask questions about issues that concern them.