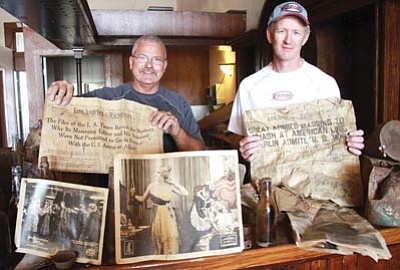 Originally Published: October 24, 2012 6:01 a.m.
A 1918 Los Angeles Times headline exclaims that the end of World War I is near. Empty tin cans used to store cigars are covered in dirt - their contents smoked decades ago. Several empty bottles of Sunny Brook Bourbon sit on a counter, their wooden corks jutting out from their glass lips.
This isn't a tour of the local museum. Workers with Axiom Remodeling unearthed these items as they demolished portions of the building next door to Hotel Brunswick.
"In my 30 years in construction, I've never seen anything like it," said Robbie Wright, Axiom's production vice president.
Swiss businessman Werner Fleischmann purchased Hotel Brunswick and the building next door, which had been a feed store and a vehicle repair shop at different times over the last century, earlier this year.
Axiom is the company contracted to achieve Fleischmann's vision of restoring the buildings to what they looked like in the early 1900s while also modernizing them.
Axiom is still in the demolition phase of construction on the building next door to the Brunswick and needed to pull up the floor. Underneath, buried in the ground, the team found numerous empty bottles, tin cans, newspapers, receipts and pieces of metal equipment.
Kevin Morgan, Axiom's owner, thinks the area was used to dump trash. But it's not junk anymore, he said.
Numerous receipts from George Bonelli issued in 1917 have the phrase, "We want your trade," typed on the back. There is also a stack of receipts from the Central Commercial Company, with the prices of unknown items scrawled in pencil.
Bonelli was a successful businessman in Kingman, owning a general store and jewelry and engraving business. The Bonelli house, which is one of Kingman's historical buildings, was his home.
Workers also demolished a section of building that used to be a bathroom. As they brought the concrete walls down, they found horseshoes that had been used as reinforcement embedded in the walls.
"We pulled out buckets and buckets of horseshoes," Wright said.
These walls were much stronger than what's used nowadays, Morgan said.
"Even the roof was concrete," he said.
Once Wright and Morgan realized there was more work than meets the eye, Axiom's employees were instructed to be careful and to take their time in case more treasures were buried within.
Employees turned their attention to the ceiling, and they started pulling off tiles.
In the space above, they found advertisements for old movies, such as "The Devil's Toy," a silent film released in 1916, and tin cans that at one time contained 10-cent cigars.
Morgan and Wright believe they've unearthed all they're going to get and have a stash of more than 100 items sitting on and around the bar at the Brunswick.
Brenda Marker, who handles Fleischmann's business affairs in Kingman when he's in Switzerland, said she's not exactly sure what to do with the items. She expects they'll be displayed in a locked case in one of the buildings once construction is complete.
As she looked through the items, her attention went to the cigar tin.
"When were cigars 10 cents?" she said, marveling at the sheer number of years the cans sat nestled above the building.
It's not every day contractors find antiques embedded in their job sites, and that fact is not lost on Morgan and Wright.
"This is a once-in-a-lifetime project," Morgan said.
Wright feels more like a treasure hunter than a builder.
"It's been awesome," he said.
As Axiom walks the tightrope of preserving history while also making the buildings comfortable for people, each day brings the community one step closer to the reopening of the Brunswick and the building next door, which will most likely be used to provide retail space to those interested.
"(Fleischmann) definitely has a vision for this place," Morgan said. "I'm proud that he trusts us with the work when he's 6,000 miles away."
The city has worked very closely with Axiom to help get everything right, a fact Morgan sees as being pretty special.
He expects construction to wrap up on the projects in four to six months.
As for the treasures, one thing really stood out to Wright.
"They sure did a lot of drinking," he said as he looked at the collection of liquor bottles.