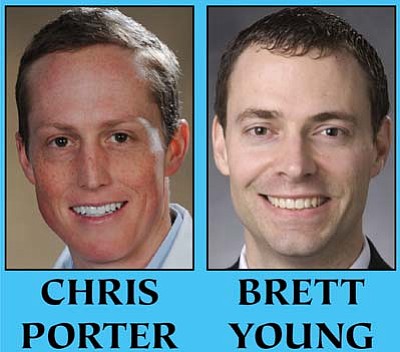 Originally Published: September 11, 2012 6 a.m.
Kingman Regional Medical Center has added interventional radiologist Dr. Chris Porter and neuroradiologist Dr. Brett Young to its medical staff.
Both doctors recently joined with the four other Mayo-trained radiologists - doctors Wade Alleman, Kale Bodily, Douglas Brandt and Christopher Johansen - at High Desert Radiology in Kingman.
As an interventional radiologist, Porter is an expert in using medical imaging technologies to guide miniscule instruments to examine or treat areas inside the body. Interventional radiology procedures often replace open surgical procedures to clear arteries, check for disease, or to perform a range of other minimally invasive operations on the body.
Porter attended medical school at the University of Colorado School of Medicine in Denver and did his residency in radiology at Mayo Clinic in Rochester, Minn. He comes to Kingman from Charlottesville, Va., where he recently completed fellowship training in vascular/interventional radiology at the University of Virginia.
Young is an expert in using advanced imaging technologies to view functional processes in the brain, spine and peripheral nervous system. Neuroradiology images allow for the diagnosis or assessment of such conditions as stroke, multiple sclerosis and Alzheimer's disease.
Dr. Young attended medical school at the Mayo Clinic College of Medicine and did his residency in diagnostic radiology at Duke University in Durham, N.C. He recently completed a fellowship in neuroradiology at Duke.
"We are very fortunate that Dr. Porter and Dr. Young are here to provide their specialized expertise in our community," said Brian Turney, KRMC chief executive officer. "By adding interventional radiology and neuroradiology procedures to our existing capabilities, local residents have access to an even wider array of diagnostic and treatment procedures using advanced imaging technologies and groundbreaking radiology techniques."
Both Porter and Young provide services upon referral of the patient's primary care physician or specialist. For more information about KRMC's medical imaging capabilities and radiology services, contact the KRMC Imaging Center at (928) 681-8600 or visit www.azkrmc.com.