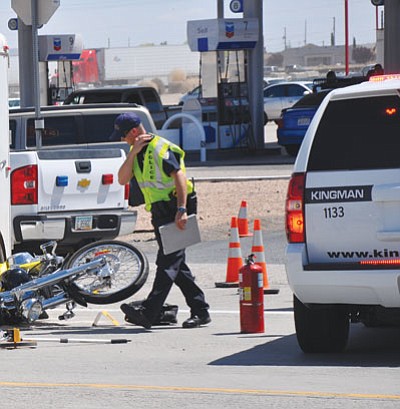 Originally Published: April 14, 2013 6 a.m.
KINGMAN - A Kingman man died late Saturday morning when his motorcycle collided with a horse trailer on Andy Devine Avenue just north of I-40.
According to Kingman Police Sgt. Dave Coffin, Audie Clinton Farmer, 46, died at the scene when the truck pulling the horse trailer exited a private drive into the path of the motorcycle.
"There are indications at the scene that he attempted to stop," Coffin said, noting Farmer put the motorcycle on its side before it collided with the horse trailer.
Coffin also said Farmer was not speeding and that speed was not a factor in the accident. Nor is there any indication alcohol played a role in the accident.
A Phoenix couple were in the vehicle that failed to yield the right of way, Coffin said.
The investigation is active and as of Saturday afternoon no charges had been filed.