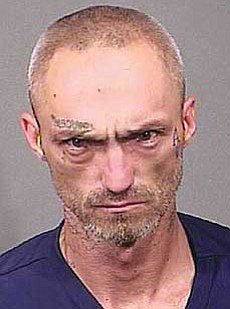 Originally Published: June 7, 2013 6:01 a.m.
KINGMAN - A man and woman who were arrested on relatively minor charges Saturday landed in far more serious trouble Tuesday when Kingman police officers arrested one of them at the Mohave County jail on felony charges of armed robbery, aggravated assault and weapons misconduct.
Shawn W. Tennison, 36, of Kingman was wanted for his alleged role in an attempted armed robbery that occurred April 28 at an apartment in the 3000 block of Hualapai Mountain Road, according to Kingman Police Capt. Rusty Cooper.
The victims reportedly told police that Tennison and Marie Ann Noelani Garcia, 19, also of Kingman, entered the home with a handgun and demanded money and drugs.
A shot was fired and the bullet lodged in a wall, said Cooper.
After a brief struggle, Tennison and Garcia fled.
On Tuesday, Tennison was arrested in the lobby of the Mohave County jail while trying to bail out Garcia, who had been arrested three days earlier on drug charges.
Mohave County Sheriff's deputies first arrested the pair on Saturday.
Tennison was charged with misdemeanor driving on a suspended license. Garcia was arrested on felony charges of possession of marijuana and drug paraphernalia.
The woman has not been arrested in connection with the alleged armed robbery. Cooper said she will face charges similar to Tennison's.
More like this story