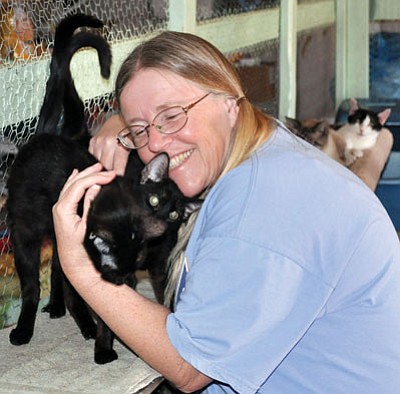 Originally Published: March 21, 2013 6 a.m.
More than 100 people attended the Sixth Annual Open House last Saturday and Sunday at the Golden Valley-based domestic animal rescue and sanctuary For The Luv Of Paws (FLP).
The event was designed so people could visit the facility and meet the resident dogs, cats, ferrets and bunnies available for adoption.
Among the visitors was Kingman resident Karen Thomas, pictured, hugging a couple of black cats she adopted during the open house. Thomas visited the facility to adopt one cat, but ended up bringing the brother-sister team home.
Also among the visitors was Mary Kay Albanis, shown visiting with a couple of cats available for adoption.
The facility takes in: owner surrendered pets; pets surrendered to veterinarians; rescued dogs and cats from the county shelter that might otherwise might be euthanized; and, at times, abandoned animals found on city streets and county roads.
FLP is authorized by the county to house a maximum of 110 cats, 60 dogs and a few other domesticated animals. "We are pretty much at our authorized limits for animals," said FLP owner Cherie DaLynn.
Anyone interested in helping FLP or adopting a pet can call (928) 897-7304 or (928) 263-6013.