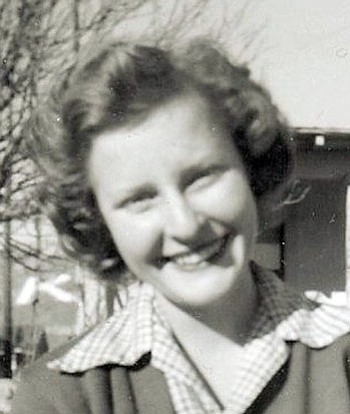 Originally Published: May 5, 2013 6 a.m.
Denise Mary Hughes (Murphy) of Phoenix passed away on Wednesday, May 1, 2013. She was born Feb. 12, 1932, to Dan and Julia Murphy in Kingman.
Denise graduated from Kingman High in 1950. After living all over the United States via Air Force, she returned home to Kingman in 1974. She worked for Mohave Oil Company until 1995, moving to Phoenix to be near her children and grandchildren. Denise worked another 17 years as an accountant, finally retiring last year at the age of 80. She enjoyed reading and spending time with her grandchildren and great-grandchildren.
Denise is survived by her sister, Jeanne Murphy of Kingman; son, Daniel (Christine); daughter, Cynthia Anaya; son, Steve; daughter-in-law, Vicki Hughes; grandchildren, Nicole (Nathan), Julia Anaya, Harrison Hughes, Ariel Hughes, Jenna Hughes; and great-grandchildren, Corina, Nathan Jr. and Priscilla. All live in the Phoenix area
A celebration of life service will be held for Denise on Friday, May 10, at St. Francis Xavier Catholic Church, 4715 N. Central Ave., Phoenix, AZ 85012. In lieu of flowers, please make donations to Mom's church to which she was so dedicated. We miss our angel and protector so very much!