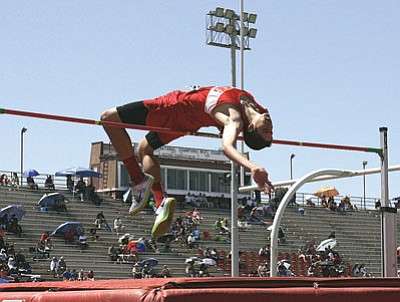 Originally Published: May 14, 2013 6 a.m.
MESA - Lee Williams High School high jumper Giancarlo Narvarte stood alone at the biggest track meet he's ever been a part of.
He was alone to collect his thoughts and ponder his next jump with no teammates to bounce ideas off, which set him apart from the hundreds of other athletes at the state track meet at Mesa Community College on Saturday.
The tall, lanky freshman made the best of it and made a ripple in the giant ocean of the state's best track and field athletes - and by his senior year, that ripple could be a tsunami.
"I'm really happy that I got to come here and see the people and feel the atmosphere and the intensity of the meet and to be able to represent my school," he said.
Narvarte cleared 5 feet 10 inches on his third and final try and easily cleared 6 feet on his first try, but failed to clear the 6 feet 2 inch mark in three tries.
"It's cool to be able to see that and see how they are able to do that and learn from this and get better for next year," he said.
Narvarte finished ninth and was the only freshman to clear a height. Eagar Round Valley's Colton Wilson won the Division III high jump as the senior cleared 6 feet 7 inches.
While Narvarte finished ninth this year, his 6-foot-3 frame could get even taller and his high jumping ability is only going to get better over the next three years.
"You look at some the these athletes, they have huge muscles, they look like men. Because they are men, they are 18 years old," said LWHS coach Joan Abraham. "And you look at him and he's still a kid. Three more years - what is he going to be like?"
Abraham said the expectation going into the year was to clear a height, and he did that by clearing 6 feet.
Now that he's has proven he can clear that, the challenge will be to go higher. Had he cleared 6 feet 2 inches on Saturday, Narvarte would've placed either fifth, sixth or seventh. The next height above that was 6 feet 4 inches, which would've placed him anywhere between second and fourth place.
"He's already looking ahead. 'What am I going to do next year, what am I going to do my junior year?"' Abraham said "He cleared two heights today. There are people that didn't do that. He could be in the top 10. How many freshman can say that?"
Besides the goals for Narvarte, Abraham is hoping to build on the experiences that Narvarte went through as an athlete and teammate Landon Kramer went through as a spectator.
"I'm hoping that they will be able to go back and share the experience and light a fire under the rest of the kids," Abraham said. "We will have more here next year."
Kingman High results
Kingman High's Darian Kamin finished eighth in the finals of the Division I 300-meter hurdles with a time of 39.24. Devon Allen of Phoenix Brophy Prep took first with a time of 36.74.
Cristian Gutierrez placed eighth in the shot put with a throw of 51 feet, 8 inches. Phoenix Desert Vista's Dylan Fischer captured the title with a throw of 60 feet, 5 inches.
Amber Tackett placed 17th in discus with a throw of 100 feet, 9 inches. Desert Vista's Makenzi Holmes-Digiovine took first with a throw of 138 feet, 6 inches.
Click for home delivery with comics, grocery deals, inserts, TV listings, coupons and more