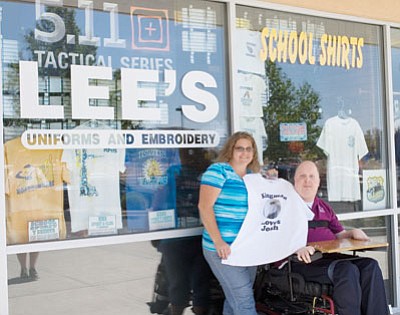 Originally Published: May 15, 2013 6 a.m.
KINGMAN - When Leroy Butler, Jr. found out about the tragic dirt bike accident that took the life of 13-year-old Joshua Graffius, he knew he had to do something to help the teen's family.
"You see, about 24 years ago I was involved in a water accident at Lake Mead and broke my neck. A group of teenagers gave me CPR for about an hour before an ambulance arrived," Butler said.
Joshua's mother, Melissa, was one of the teens that gave Butler CPR.
"When I heard about the accident, I wanted to find a way to help the family out," Butler said. "It's tragic that something like this is what brought us back together."
So Butler did what he does best - he designed a T-shirt. He helps his father, Butler, Sr., run Lee's Uniform & Embroidery, 3900 Stockton Hill Rd.
The shirt has Joshua's photo on the front with "Kingman Loves Josh" and one of Joshua's favorite mottos on the back: "You only live once."
There is no set price for the shirts, Butler said. "Whatever someone wants to give. I'll accept. Although, I'm hoping people will give at least $10. All of the proceeds go to the Graffius family."
Donations can also be made to the Joshua Graffius Memorial Fund at any Wells Fargo Bank.
"(Joshua) was just a great kid," Melissa Graffius said. "He was always happy and smiling. He loved country music. He could get anyone, even someone who didn't like county music, to like country music.
"He loved everything to do with the outdoors. He loved football and sports. He also liked hunting," Graffius said. "He always told his friends he loved them before they left, because you never know what might happen."
More like this story