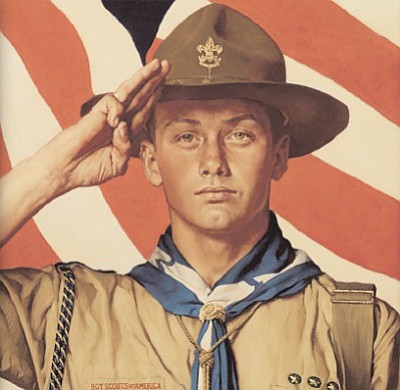 Originally Published: October 29, 2013 6 a.m.
KINGMAN - Local former, current and potential Boy Scouts, their leaders, parents, volunteers and other community members are invited to participate in a closed-circuit live, nationwide Scouting open house today. The broadcast will originate from the 21,000-seat Conference Center in Salt Lake City, Utah.
The celebration, called "A Century of Honor," is a tribute to the 100th anniversary of The Church of Jesus Christ of Latter-day Saints becoming the Boy Scouts of America's official chartered organization. LDS churches across the nation will host gatherings where audiences can watch the broadcast and learn about the virtues and values of Scouting.
The broadcast can be seen locally at 6 p.m. today at the LDS church, 610 Eastern Street.
Scouting is a growing activity in Mohave County, said Darrell Pedersen, senior district executive of the Mohave District Boy Scouts of America. Pedersen said the district has 60 packs of Cub Scouts and Boy Scouts, composed of about 1,000 boys and 300 adult volunteers. Pedersen said the district has grown by about 150 boys over the past two years and its packs have increased from 53 to 60 during that time.
"Scouting is fun with a purpose," said Pedersen, who plans to attend the celebration. "While the boys are participating in fun activities, we're developing their character, physical and mental fitness and making them better citizens of Mohave County and the world."
"This is a very special event," said Irene Duford, public affairs director for the Kingman church. "It will give everyone who attends a chance to see how important Scouting is to the community and how it helps young people. It teaches them the important values of honesty, trustworthiness, outdoor survival and more."