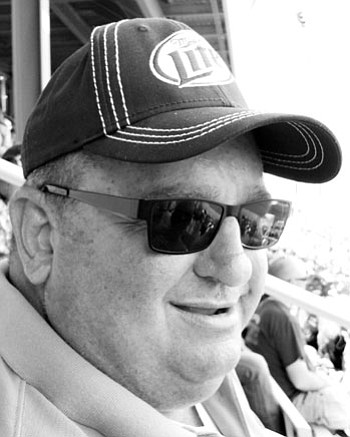 Originally Published: April 13, 2014 6 a.m.
Frank James Ford Jr., 55, passed away on Sunday, April 6, 2014, in Chandler, Ariz., with his wife near his side, after a valiant, four-year battle with colo-rectal cancer. Frank was born on Nov. 26, 1958, in Georgia and spent the last several decades in Arizona, enjoying a long career with the Arizona Department of Revenue.
Frank's generous spirit was reflected in his warm smile, kindness to all, and genuine love of life. He embraced every experience, from annual NASCAR outings and trips to Over the Line tournaments to weekly lunches at his favorite Mexican restaurants and gatherings at spring training games.
Cherished by his loved ones, his countless friends and his extended NASCAR family, Frank is survived by his wife, Kelly; stepdaughter, Sharlie (Armando); grandsons, Elias and Edmund; mother, Charlotte; sister, Becky Ford; brother, Robby Roberts (Laura); and other beloved members of his family. He was preceded in death by his father, Frank James Ford.
A celebration of Frank's life will be held at 2 p.m. Monday, April 14, 2014, at Bueler Chandler Mortuary and Chapel, 14 W. Hulet Drive, Chandler, Ariz.
In lieu of flowers, please consider a donation in Frank's memory to the Colon Cancer Alliance - Central Arizona Chapter c/o 1025 Vermont Ave NW, Suite 1066, Washington, DC 20005 or to the Victory Junction Gang Camp, 4500 Adam's Way, Randleman, NC 27317.
"I never think of how many starts I've had. I never worry about it. I don't dwell on that stuff. I'm just out there doing what I like to do." - Retired NASCAR driver and Frank's all-time favorite, "Awesome" Bill Elliott.