Heroin found during arrest
Originally Published: December 15, 2014 6 a.m.
KINGMAN - On Dec. 6, Kingman Police officers arrested Lawrence Dwayne Schramm, 23, of Golden Valley and Nichole Christine Maday, 26, of Kingman on drug charges and multiple warrants.
Schramm was charged with a felony count of possession of drug paraphernalia and five warrants issued by Kingman's justice and municipal courts and a court in Lincoln County, Nev. Maday was charged with possession of narcotics, possession of drug paraphernalia and three warrants issued by Kingman's justice and municipal courts.
Police responded to a check fraud report at a business in the 3400 block of Stockton Hill Road at about 9:15 a.m. Schramm and Maday reportedly attempted to avoid officers but were detained. Record checks revealed the warrants and both were taken into custody. Searches allegedly revealed Schramm and Maday possessed drug paraphernalia and Maday also possessed heroin.
They were taken into custody without further incident. An investigation is under way regarding the alleged check fraud.
Stealing for drugs
A 28-year-old Kingman man reportedly admitted he stole his girlfriend's computer to pay off a drug debt, and he was arrested on that charge as well as other theft-related crimes on Dec. 5.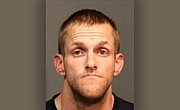 Mohave County Sheriff's deputies were tipped off that Robert Eugene Edgar III was involved in a burglary. Investigators learned an air compressor and bicycle frame were stolen from a shed in the backyard of a home in the 3200 block of Carver Avenue. The victim reportedly told deputies that Edgar stole her property and sold it.
Deputies recovered both items, learning the compressor was sold for cash and the frame was traded for computer equipment.
Deputies also learned Edgar allegedly stole his girlfriend's computer. He was located and arrested in the 3300 block of Andy Devine Avenue at about 12:25 p.m. According to MCSO spokeswoman Trish Carter, Edgar admitted to taking his girlfriend's computer.
He was charged with two counts of trafficking in stolen property, burglary and theft, all felonies.
Warrant arrest
On Dec. 9, Mohave County Sheriff's deputies arrested Amanda Rose Alania Manore, 26, of Meadview on a felony possession of dangerous drugs warrant issued by Maricopa County Superior Court.
Deputies stopped an allegedly speeding vehicle in which Manore was a passenger on Stockton Hill Road at milepost 37 just before 11 p.m.
A record check revealed the warrant under Manore's alias, Amandarose McRady. She was taken into custody without incident.
More like this story
SUBMIT FEEDBACK
Click Below to:
This Week's Circulars
To view money-saving ads
For as little as $3.49*