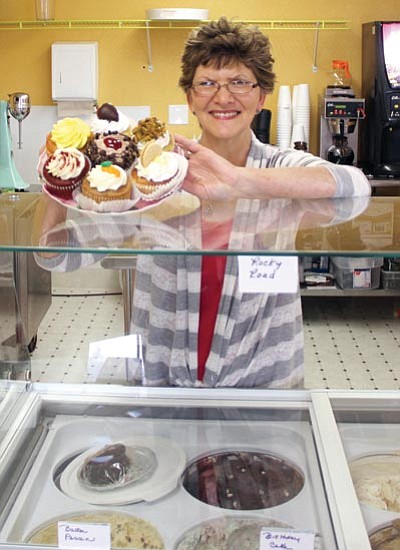 Originally Published: February 4, 2014 6 a.m.
KINGMAN - Jan Meredith knew she wanted to become a baker at a very young age. She was 4, her best friend David was 5, and they spent their days happily making mud pies underneath the front porch of her childhood home.
Much has changed since those days. Meredith has written two cookbooks, one with a recipe dedicated to her childhood friend - David's Mud Pie.
After operating gourmet candy shops in Pennsylvania, Florida and Colorado, Meredith and her husband first moved to Kingman in the late 1990s, where she worked as an executive pastry chef for Harrah's in Laughlin.
"When we sold the candy shop in Colorado, we were ready for something different and my husband liked Laughlin, so we settled in Kingman. At Harrah's, I was taught by some of the best pastry chefs in Las Vegas. Some had been on the Food Network. It was a lot of training, quite a learning experience."
Although she loved the work, the couple left Kingman and returned to Florida to care for her aging parents. "First mom passed away, then dad. It was during this time ... that I wrote the cookbooks. Then one day we were talking about where to go next - this is a true story ... my husband picked up an atlas and pointed to Anderson, South Carolina, and that's where we went."
Meredith went back to baking, working as a pastry chef at Clemson University where she made desserts for 22,000 students. "One day a student came up to me in the dining hall and told me how lonely she had been and how glad she was that I made cupcakes because they reminded her of her mother."
After four years at the university, Meredith began to think about retirement, but "cupcakes were gaining in popularity then and opening a cupcake shop in Kingman was in the back of my mind."
The couple returned to Kingman and "retirement lasted 15 days" before she was busy planning her next venture. Together, the couple opened "Cupcakes and More by Jan" on Aug. 6, 2012, but by the end of the month, her husband had become ill and he passed away in October.
Meredith threw herself into the business, working 16-hour days.
"I've had 10 homes in seven different states, but never have I seen such thoughtful, caring and loving people as there are here in Kingman," she said. "They've reached out to me in a way that I've never known of."
On any given day, Meredith makes 30 to 35 varieties of cupcakes by herself. How? "Organization and really knowing what you're doing," she said. "There's a timeline and procedure. For example, with chocolate cake, I mix chocolate, red velvet and German chocolate. Then white cake, to yellow cake to French vanilla. It's a lot of training and organization - following steps."
In addition to cupcakes, Jan bakes a large selection of breakfast pastries, including cinnamon rolls, pecan sticky buns, bear claws, apple walnut streusel, many different flavors of scones, and biscotti.
The shop, located at 701 Stockton Hill Road, recently won a "People's Choice Award" as the best bakery in Kingman. With the help of her son, who relocated to join the business, Jan expanded to include ice cream and a coffee shop. "With ice cream and cake, it's perfect for birthday parties. Kids can fill their own cupcake pans and decorate them after they're done."