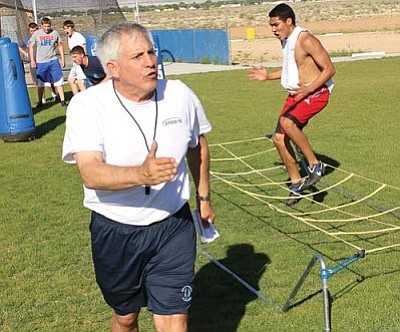 Originally Published: July 11, 2014 6:01 a.m.
KINGMAN - In the midst of all the planning for the upcoming football season, the Kingman High Bulldogs hit a bump in the road this week when coach David Ward verbally resigned to KHS athletic director John Venenga.
That bump was smoothed over quickly as recently hired assistant coach Greg Tonjes was promoted to lead the Bulldogs.
"Greg is going to be my new head coach," Venenga said. "His enthusiasm and the fire in his belly since he got here to make Kingman High School football successful again is unbelievable."
Ward led KHS for one season, going 4-6 in 2013. He said because of ongoing medical issues with his wife that he had to step aside at Kingman.
"I wanted to stay in a bad way," Ward said. "But I can't consciously run a program and be worrying about my wife who is 3-1/2 hours away in Phoenix. The kids are going in the right direction."
Tonjes, who moved to Kingman from Scottsdale in April, began working with the team immediately upon his arrival. His closeness with the players made it an easy call for Venenga to have him replace Ward, and Tonjes is walking in the clouds due to the opportunity.
"It's like going to Disney World," the new coach said. "It's humbling. It's an affirmation that this is the right place where I'm supposed to be. I'm filled with tremendous excitement and confidence that this program will support the kids, the school and the community with what we can do this season."