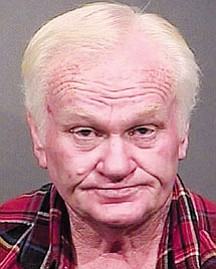 Originally Published: March 10, 2014 6 a.m.
KINGMAN - The Mohave Area General Narcotics Enforcement Team arrested a 59-year-old Kingman man Thursday afternoon on felony drug charges.
Tony M. Anderson Sr. was taken into custody at a resident in the 5000 block of W. Camelback Loop in northeast Kingman. The felony charges include possession of dangerous drugs for sale, possession of dangerous drugs, possession of marijuana, and two counts of possession of drug paraphernalia.
MAGNET served a search warrant with the assistance of GIITEM, the Arizona State Gang Taskforce, at approximately 3:10 p.m. after a three-month investigation. Anderson was taken into custody without incident.
According to Kingman Police Department spokeswoman Jennifer Sochocki, investigators seized approximately 0.035274 ounces (one gram) of methamphetamine, a small amount of marijuana, and various drug paraphernalia.
Investigators allege that methamphetamine was being sold out of a motorhome located on the property and said Anderson admitted to his involvement. He was subsequently booked into the Mohave County Jail.
Further charges may be pending for three other subjects who were contacted at the residence during the execution of the search warrant.