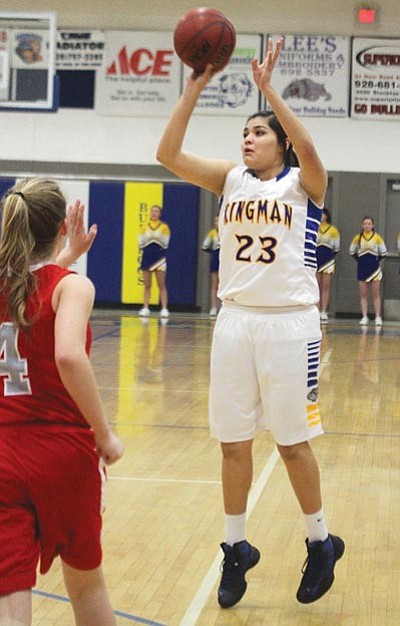 Originally Published: May 8, 2014 6 a.m.
KINGMAN - Desirae Gonzalez has had basketball flowing through her veins for a long time. Now a sophomore at Kingman High, the Lady Bulldog sharpshooter was a two-time Arizona Elks Hoop Shoot champion when she was 10 and 11 years old back in 2008 and 2009. One thing that needs to be understood about 'Des' is that she loves hoops.
"I don't know if it comes from my parents, but it runs in the family and I grew up around it," she said. "I couldn't imagine my life without basketball. I wonder sometimes - what would I do without it? I do feel like I wouldn't have as good of a connection with my parents as I do."
Gonzalez' mother, Missy, and father, Danny, both played high school basketball and coach at Kingman High. Her older brother played four years at KHS, and so did her sister, Kristen.
This past season, she was named Division II First Team All-State and was in the running for the D-II player of the year. As she approaches her junior season, Gonzalez is looking to win the biggest award she can earn at this point of her basketball career. That's a full-ride scholarship to play college ball.
"I don't know where for sure. I'm still looking around and want to incorporate that into my future," she said. "I'd like to play at the highest level of competition possible."
In order to do that, Gonzalez and her family are putting in the effort to get there. Since the end of the high school season, she has been traveling to Phoenix to play for the Arizona Thunder, a club team based there. And that's aside from working on her game here in Kingman most days of every week. By the time summer is over and school starts again, she will have played in tournaments in Flagstaff, Phoenix, Oregon, Southern California and South Dakota.
Dick Donahue coaches the Thunder and has been around the game for three decades. He saw Gonzalez play when the Lady Bulldogs beat Thunderbird in the state playoffs in February and asked her to join his club team.
"If she works hard and everything, there are going to be schools interested in her," Donahue said. "She'll get the exposure this summer, and next year will be a big year for her because they start looking at players their junior year."
Greta Hannemann is the girls coach at Coconino in Flagstaff, and though Gonzalez was an underclassman, the Panthers knew all about her.
"I view her as a pure shooter who has a great basketball IQ," Hannemann said. "Coaching against her, I always made sure my girls knew where she was at all times. She can score a lot of points in a hurry and she can score inside and outside."
The traveling the Gonzalez family is doing to make certain Des gets her game in front of college programs isn't cheap. Father, mother, sister and even Des have taken up part-time jobs to help pay the costs. They know their efforts will prove fruitful.
"Danny and I have always said we would pay attention to our kids," Missy said. "We knew we would have to make some sacrifices since this would require a lot of travel, time and money."
Fundraising plans are being organized, and the Gonzalez family just wants to let the community know that when any support comes to help them in their quest, it will be greatly appreciated.
"It's a joy having her," Donahue said. "It's a long trip for mom and dad. But kids have to make the trip to Phoenix to get the exposure."