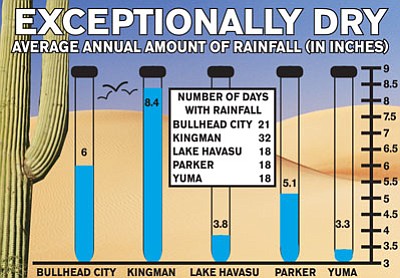 Originally Published: May 18, 2014 6 a.m.
KINGMAN - Five years ago this month, a young and apparently bewildered black bear wandered into the city. Confused, aggressive and considered a public threat, the bear was shot and killed by an officer with the Kingman Police Department off Stockton Hill Road across from the post office.
The mother of the 175-pound yearling likely forced the doomed bear from the Hualapai Mountains, but the Arizona Game and Fish Department warns that current drought conditions could draw wildlife into neighborhoods this summer.
Less than 1.5 inches of rain fell in the area through the three months of winter, about half of the seasonal average. While Kingman averages between 8 and 10 inches of rainfall each year, the hot, dry season has arrived and could last until the monsoons come in August.
"Animals may go into search mode," said Larry Phoenix, a field supervisor with Game and Fish. "If they can't find food and water in the forests, mountains and areas where they normally live, they head to places where these essentials can be found."
Does that mean Kingman can expect visits from bears this summer?
"Bear is a possibility, of course, but remains unlikely," said Zen Mocarski, public information officer and education program manager for Game and Fish's Region 3 office in Kingman.
He said that javelina, maybe lions, which he said are "already all around the city," coyotes and small mammals are more likely to be spotted.
Mocarski said the number of bears in the Hualapai Mountains remains small, as the range does not offer sufficient quality bear habitat to support a larger population.
Mocarski remembers the bear incident of May 2009. He said female bears might scare off a cub to gain a mating opportunity. Normally, black bear mothers force out their offspring after about 17 months.
The real issue isn't what kind of animals or mammals the coming drought season might push into the city, but what residents should - and should not do - once they arrive.
Rule No. 1: Do not feed the wildlife, no matter how strong the temptation to do so. Never has the adage about no good deed going unpunished been truer. Unfortunately, it is the animal that is punished.
"You should never provide food, cover or water for wildlife," said Phoenix. "Animals that receive help from people become habituated to human-occupied areas and can feel too comfortable around humans."
Phoenix said this comfort level is a false one and is the source of many conflicts between humans and wildlife as some animals become aggressive.
Mocarski said simply failing to pick up dropped food can pose a threat to wildlife.
"You place food on the ground and draw in small mammals, and you're looking at roadrunners, snakes and other smaller predators who like to eat those critters, and then bigger prey species arrive and these are potentially larger predator animals such as bobcats, coyotes (and) lions."
Game and Fish recommends residents remove pet food, water bowls and other attractants from around the home. Block crawl spaces under structures with fencing so wildlife can't shelter or make a den. Don't let wildlife get comfortable. Play loud music. Bang pots and pans. Squirt them with water. Light up your property at night.
Of course, you might want to let your neighbors know about your plan of action ahead of time. Get them involved.
Just don't get too involved. With the threat of drought drawing wildlife into the city looming, the odds are reasonably good that residents will encounter an animal that appears to be injured or orphaned.
"Think twice about picking it up," said Phoenix. "If you handle an animal and get it used to human presence, you may doom it from being able to survive in the wild in the future.
Click for home delivery with comics, grocery deals, inserts, TV listings, coupons and more