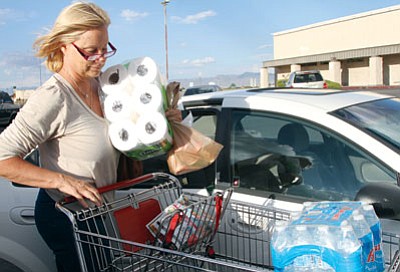 Originally Published: August 10, 2015 6 a.m.
KINGMAN - Prices haven't changed much during the past year and a half that Joanna Doucette has been managing Hairworks Family Salon.
Haircuts for seniors have actually dropped by $1 to $12.95, and eyebrow waxes are down to $8 from $12.
Doucette has found that Kingman consumers are a bit more sensitive to price increases, even modest increases that are showing up in certain sectors of the economy. Over the past year, the price of haircuts rose 2.8 percent, the largest gain since 2008.
"We just stick more to what's our protocol," Doucette said. "A haircut doesn't go with color. It's a la carte like it used to be."
From haircuts to a cup of coffee, prices are going up as the economy remains sluggish in the aftermath of the Great Recession.
Consumers have seen prices stay flat or even decline over the last few years, but inflation is ticking up, and that's going to take some getting used to.
Overall inflation is being held down to historically low rates by price decreases in many consumer categories.
Yet the stepped-up price tags for a range of consumer items are the largest since the Great Recession ended six years ago.
They actually reflect a healthier economy: Many businesses have finally grown confident enough to pass their own higher costs on to consumers without fear of losing customers.
Employers have added nearly 5.6 million jobs the past two years, allowing more people to absorb higher prices.
Signs of emergent inflation are a key reason the Federal Reserve is likely to raise interest rates from record lows later this year. Inflation has long trailed the Fed's 2 percent target rate, but is on track to return to that level in coming months.
"That should give the Fed a little more confidence that ... they will meet their (inflation) objective," said Laura Rosner, an economist at BNP Paribas.
Coffee prices jumped 6.1 percent in January from 12 months earlier, the most in nearly three years. Starbucks responded by raising the price of a cup of coffee by between 5 cents and 20 cents.
Beef prices have soared nearly 11 percent in the past year, which led Chipotle to raise prices for steak and its beef barbacoa by an average of about 30 cents per entree, the company says.
The biggest driver of inflation this year has been residential rents. They climbed 3.5 percent in June from a year earlier, the fifth straight month with an annual gain of that size.
A nice, two-bedroom apartment in a good area of Kingman will rent for about $450, said Dawn Brannies, broker and owner of Kingman Premier Properties. It runs a little more with a garage.
"Our rents have been staying about the same on the houses," Brannies said. "We don't have much availability. Rentals are going fast and we like that."
Overall, consumers have yet to get hit by significant increases for everyday purchases.
Inflation as measured by the consumer price index has barely risen in the past 12 months, mostly because of cheaper gas.
Excluding food and energy, which tend to fluctuate sharply, "core" inflation has risen 2.3 percent at an annual rate in the past three months. In April, the three-month annual pace was 2.6 percent, well above the Fed's inflation target.
Rising trend
Economists expect the price increases to continue, in part because they're occurring mostly in services, whose prices tend to be comparatively stable. Economists call these "sticky" prices. They include rent, insurance, haircuts, restaurant meals and utility bills.
Even though he doesn't like raising prices, Roadrunner Café owner Barry Jones adjusted certain menu items upwards in early 2014. A breakfast with two eggs and bacon was $4.99 a few years ago and is now $7.49.
"I went up based on what other people are charging around the city," Jones said. "We had the lowest prices in town. Bacon went up, beef went up. Of course, right now it's eggs. I was paying $25 a case and now it's $45."
Business dropped 30 percent at Roadrunner Café, a home-style restaurant at Beale Street and Grandview Avenue, when gasoline went to $3 a gallon and has never recovered, Jones said.
Along with that, he had to deal with an increase in minimum wage. He tries to pay his employees above the $8.05 hourly minimum.
Labor costs for many service-sector companies are rising, lifted by minimum wages in an increasing number of states. Chipotle just raised prices 10 percent in San Francisco partly because of a minimum wage increase.
By contrast, prices for goods in some cases keep falling. Clothing, furniture, and many appliances are cheaper than they were a year ago, a result of global competition that's held down the costs of factory goods.
And gasoline and natural gas are much cheaper than they were last year. Through the first half of 2015, the average retail gasoline price is down 30 percent to $2.47 a gallon.
Residential natural gas prices are down 9 percent, according to the Energy Information Administration.
A big reason prices for services have risen is that Americans are spending more money on them. Consumers spent just 32 cents of every dollar on goods in the first quarter of this year, down from nearly 34 cents two years ago. Over the same period, services spending rose to 67.6 cents from 66.
"People are finally getting back to the comforts they may have afforded prior to the recession, including splurging on haircuts and home cleaning services," said Jack Kleinhenz, chief economist at the National Retail Federation.
The Associated Press contributed to this report.
Click for home delivery with comics, grocery deals, inserts, TV listings, coupons and more
More like this story