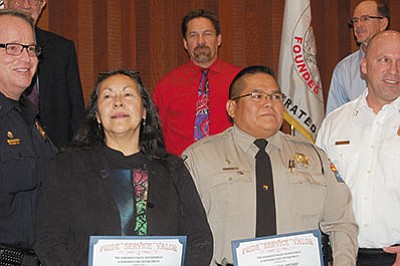 Originally Published: December 18, 2015 6 a.m.
KINGMAN - They saved his leg - and his life.
The quick thinking and actions of off-duty Arizona Highway Patrol trooper Leo Becenti Jr. and Kingman resident Ellen Baca saved a badly injured motorcyclist's life Oct. 30, and in the process they saved his leg.
Becenti was jogging in the area of Main Street and Wickieup Avenue at about 10:30 a.m. when the driver of an SUV struck the motorcyclist.
Becenti and Baca rushed to the man's aid and asked a neighbor to bring items needed to make a tourniquet for the rider's leg, which was bleeding profusely.
They used a wooden paint stick and a belt to fashion the tourniquet, and it stopped the bleeding. The rider was ultimately flown to University Medical Center in Las Vegas with a grim prognosis: Medical personnel believed the loss of his leg and even his life was probable.
Surgeons in Las Vegas, however, were able to save both and they credited the actions of Becenti and Baca. He continues to recover in Las Vegas, and his family is grateful for their actions.
Deputy Police Chief Rusty Cooper said both were to be commended when he and Fire Chief Jake Rhoades presented lifesaving awards at Tuesday's City Council meeting.
"In today's society, you don't know how people are going to react. They took extraordinary actions," Rhoades said, noting the use of a paint stick and belt to fashion a tourniquet was brilliant.