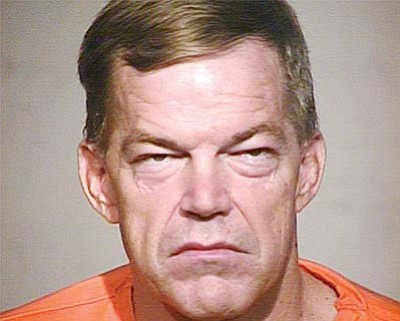 Originally Published: January 6, 2015 6 a.m.
KINGMAN - A former Mohave County employee who was sentenced to prison on a variety of forgery and theft charges in 2008 died of an apparent suicide on Thursday.
Donald Lee Condra, 51, was found unresponsive at a state prison in Buckeye, according to Arizona Department of Corrections spokesman Doug Nick.
Nick said medical teams attempted to revive Condra without success and that his death remains under investigation by the Maricopa County Medical Examiner.
Condra was sentenced to eight years in 2008 following his convictions at trial on four counts of forgery, two counts of theft, one count of fraudulent schemes and artifices and one count of tampering with a computer. He was sentenced to another three and a half years after he was convicted on fraud charges in 2009.
He was also ordered to pay $5,800 in restitution.
Condra worked for the county's Public Works Flood Control Division from 2004 to 2006, the year he forged and then deposited several checks from two development companies and a map of revision that was purportedly approved by the Federal Emergency Management Agency regarding an area in town that was prone to flooding and needed dirt work improvements made prior to building.
In addition to stealing $5,000 from T&M Development and $800 from C. David Custom Homes, Condra stole four computers from the county's public works department.
The forged map was Condra's undoing after a lender for T&M checked with FEMA and learned the letter was forged. The developer learned of the forgeries shortly afterwards.
Condra would have been eligible for parole in 2018.
His wife's father, in an email to the Miner, said Condra became depressed after he was "assaulted by guards and inmates." He was confined to a wheelchair afterward. "Donald was so desperate he had no alternative. Because of his depression, he ended his life."
Nick said there is no evidence Condra's death was anything other than a suicide and there is no record of him being beaten by guards.
He reiterated the death remains under investigation, as is the case whenever an inmate dies in an ADC facility.