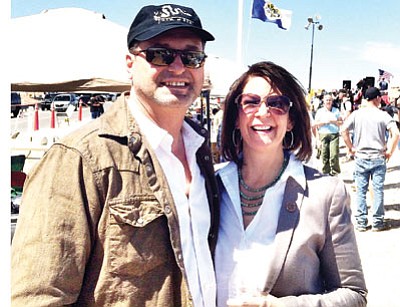 Originally Published: January 13, 2015 6 a.m.
KINGMAN - The leadership of the Mohave County Republican Central Committee took a shift to the right Saturday when Dr. Michael Ward narrowly defeated fellow Lake Havasu City resident George Schnittgrund as party chairman.
After the vote for the chairmanship, the more than 50 Republicans who participated, many with the authority to cast proxy votes for committee members not in attendance, affirmed the remainder of the slate of candidates.
Only one of them, Treasurer Michael Daley of Lake Havasu City, has more than one term under his belt as a county committeeman, according to Steve Robinson.
A second group of Republicans with a different slate of candidates withdrew its nominees after Ward's election.
"The tea party and libertarian movement held strong sway over this year's election, as longtime party stalwarts were defeated or chose not to run in the face of Ward's victory," said Robinson in a statement.
Ward said county Republicans are not in two camps despite the results.
"I don't think we're bifurcated," Ward said. "We're too small to be bifurcated. This is a movement of younger, energized Republicans who slant toward the tea party and libertarian ideals who are willing to work hard and knock on doors, just like we're seeing elsewhere in the country."
Ward said he embraces the tea party philosophy. "It's all about limited government, lower taxes and less federal intrusion in the state's affairs," he said.
Not everybody in the local GOP shares that philosophy, but Ward doesn't believe Saturday's election results are an indication of turmoil: "Some Republicans are less conservative than others, but that doesn't mean the party's fractured."
What the party is, he said, is short on active members.
"Less than 25 percent of our precinct committeemen (positions) are filled," he said.
The immediate goal, he said, is to recruit people to positions who have the energy and willingness to put in the work.
He noted voter turnout among Mohave County Republicans, widely considered the most conservative in Arizona, generally lags behind other counties.
"We have to find people willing to work hard to get out the vote and we have to grow our organization," he said.
The first step in achieving that goal, he said, is for the committee to go through the voter rolls and identify those voters with a "high propensity" to cast a ballot.
"There are people out there who would get involved, but they've never been asked before. That's the challenge. We need to get people involved."
He believes the key reason county Republicans don't vote as much as their peers elsewhere in the state is the belief their vote doesn't count.
"Their vote does count," he said. "Diane Douglas (state superintendent of schools) won election because of Republicans in Mohave and Yavapai counties. She lost in Maricopa County (the state's largest). We can make a difference."
Ward said the committee would take a number of avenues in finding people to help get out the vote through phone calls, knocking on doors, email, U.S. mail, and the media.
Also elected to the central committee on Saturday were First Vice Chairwoman Cassandra Mooneyham, Lake Havasu City; Second Vice Chairman Preston Hicks, Kingman; Secretary Mardi Benedict, Bullhead City; and Treasurer Daley.
The executive board includes Robinson, of Golden Valley; Michelle Arnett, Bullhead City; and Bill McMahon, Lake Havasu City.
Ward is the husband of state Sen. Kelli Ward, R-Lake Havasu City. He is president of the Arizona Emergency Medicine Specialists and is a member of the Arizona Air National Guard, holding the rank of colonel.