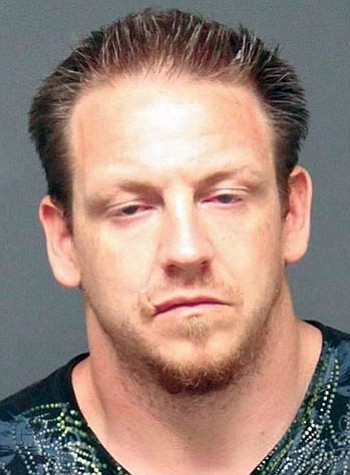 Originally Published: June 15, 2015 5:39 a.m.
KINGMAN - Two Kingman residents armed with handguns were arrested for aggravated assault Wednesday and the man who called Mohave County Sheriff's deputies to report the crime also went to jail.
Nicholas Mitchell Markham, 31, called 911 at about 11:50 p.m. Tuesday and told dispatchers two armed people were trying to break into his home.
One of those people is Markham's ex-girlfriend, Sharlene Renae Dooley, 32, who reportedly enlisted the aid of Robert Paul Holbrooks, 44, whom deputies found walking in the back of a home in the 3700 block of Devlin Avenue.
Holbrooks reportedly told deputies he was there because Dooley wanted Markham out of the home. Dooley and Holbrooks were armed with a .25-caliber pistol, a .40-caliber semiautomatic handgun and a shotgun.
Deputies allegedly found about 11 grams of a white crystal substance and a digital scale.
Holbrooks was charged with aggravated assault, possession of dangerous drugs, possession of dangerous drugs for sale, possession of drug paraphernalia and disorderly conduct with a weapon. Dooley was arrested on a felony charge of aggravated assault and Markham on a felony fugitive from justice warrant issued out of Nevada.