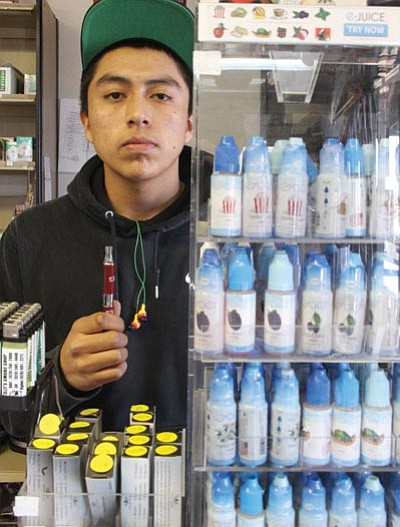 Originally Published: March 23, 2015 6 a.m.
KINGMAN - Are electronic cigarettes a hot commodity or the start of a regulatory nightmare?
That's what has been on the minds of smokeshop owners and retailers of electronic cigarettes. The popularity of electronic cigarettes, or e-cigarettes, has soared over the last few years. The industry is making well over a billion dollars nationally, and is growing at a pace that threatens to overtake the tobacco industry within the next five years.
The boom hasn't gone unnoticed. Looming FDA regulations and recent attempts in Arizona to tax "vapor products" as regular cigarettes have concerned shop owners who are taking advantage of the product's popularity.
"If passed as written, this industry will die," said Curtis Valdez, owner of Creative Vapor in Kingman, in reference to proposed FDA regulations.
Valdez has operated his business for just under a year now, opening a shop in Tucson in early 2014 and recently opening a shop in Kingman. The business sells vapor products and makes and bottles its own juice.
"The FDA wants to lump us right there with cigarettes. The industry has only started to boom now," Valdez said.
"We would have to close," said Valdez.
Proposed rules
The FDA regulations Valdez is referring to were proposed last year. Among other things, they would:
• Ban the sale of e-cigarettes to minors (currently on a state-by-state basis, with Arizona banning sales to minors)
• Require the disclosure of ingredients in their products;
• Require products to undergo a premarket review. The review is estimated to cost more than $300,000 and would stretch the time a product is in development to nearly two years.
For shops such as Creative Vapor, the premarket review would be the most devastating to their business. The shop already discloses ingredients and nicotine content in its products. The review would effectively render the creation of new products unavailable to small businesses such as Creative Vapor, which makes its own e-cigarette juice.
While the FDA has backed away after a flood of comments from the public, the agency is still looking to regulate the industry in the near future.
Robyn Lecher, manager at Liquid Chicken Smokeshop in Kingman, would welcome such regulations if applied correctly.
"E-cigarettes aren't new," said Lecher. "They've been in other countries for 10-15 years. There is already research being done out there, if regulations come into play. All the products we carry comply with those particular regulations."
Her smokeshop buys pre-packaged bottles of juice that, she said, "have already been inspected by the FDA."
At the heart of regulating the e-cigarette industry are the health effects of using e-cigarettes, or "vaping."
E-cigarettes work by vaporizing "juice" made up of propylene glycol, glycerin, nicotine and flavoring. The juice runs over a coil that converts the liquid to vapor that a person can inhale. Various modifications can be added to modern day e-cigarettes that can increase the voltage of the coil and create a harsher, thicker vapor.
Because the product is so new, long-term studies are rare. Short-term studies have also been inconclusive across the board. Some studies suggest that the vapor still contains carcinogens, such as formaldehyde. Others are adamant that the vapor coming out is as harmless as steam.
Shop owners such as Valdez welcome more research on the subject.
"There have been a bunch of short-term studies done. Most of them have been in our favor," said Valdez. "They are substantially safer compared to normal cigarettes and pose no risk to the user or bystanders."
Smokers looking to quit or wean themselves off of cigarettes have also turned to e-cigarettes as a solution.
"There's a lot of people quitting altogether," said Lecher, who uses an e-cigarette with no added nicotine.
"I'm an ex-smoker. It doesn't make me want to have a cigarette. I take it with me to the bar a lot," she said. "The benefit is I'm not smoking a cigarette.
"For me, personally, there is no sensation that I get from that. It's just a matter of, while I'm standing there and they're smoking cigarettes, I have a vape on it and I don't want to get a puff from them."
Future taxation
Looking to fill the budget deficit, Arizona Representative Lisa Otondo (D., Yuma) introduced HB 2596, a luxury tax on electronic cigarettes, in February.
The bill would levy a tax on vapor products equal to nine-tenths of a cent for every 0.05 milliliters of liquid nicotine solution. In comparison, a state tax of nine-tenths of a cent is placed on each cigarette sold.
No action has been taken on the bill so far.
E-cigarettes are cheaper to smoke than standard cigarettes, after buying the actual e-cigarette itself. A 10ml bottle of juice will run about $10, and while it depends on an individual's smoking habits, that 10ml bottle is equal to about five packs of cigarettes. With a pack of cigarettes running anywhere from $5 to $7, that adds up to substantial savings for the "vaper."
Under the new tax law, each 10ml bottle will be taxed $1.80.
"I don't know why they want to tax a product with no current known health effects," said Valdez. His business is against the new proposed taxation.
Liquid Chicken's Lecher said she doesn't believe there will be an impact on business.
"We pay a tax on all other tobacco on our store. Taxing and regulating it would create better quality products for us," said Lecher.
"We are supporting regulations within reason, as with everything."
The bill allocates 10 percent of the taxes collected to reducing hazardous fuels on nonfederal forested lands and fire suppression and forest management.
Click for home delivery with comics, grocery deals, inserts, TV listings, coupons and more
More like this story