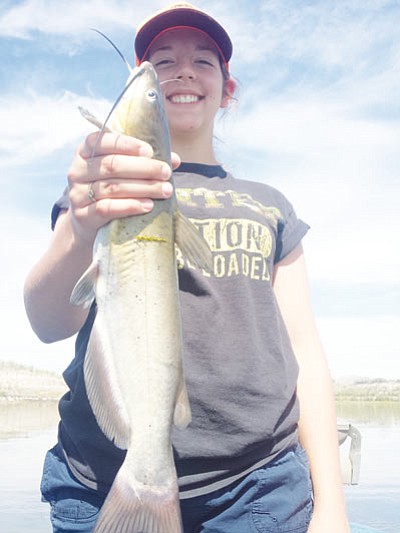 Originally Published: March 31, 2015 6 a.m.
With only the spring turkey season remaining for those of us who hunt, it is time to turn our attention to another outdoors activity that we enjoy: fishing.
One of the best areas to go right now is Alamo Lake. The weather is nice and the fish are starting to bite.
Alamo Lake is a 3,500 acre (at full pool) body of water that forms the southern border of Mohave County.
Created in 1968 as a flood control project by the U.S. Corps of Engineers, the lake has seen a rise and fall in both size and quality of fishing opportunities.
At one time, Alamo Lake was considered one of the best in Arizona to catch largemouth bass and crappie.
I can remember days on this lake where we would catch 50 bass on spinnerbaits and Texas rigged lizards.
I didn't fish for crappie much, but anglers there were fishing at night near the dam and could catch 100 of them.
Now the lake still produces bass and crappie and probably one of the best "secrets" is that it is the most underutilized catfish fishery in the state.
Stewart Kohnke was a wildlife manager at the lake for many years. Kohnke told me that when they would do gill net surveys, the nets would be loaded with catfish, and he didn't understand why more anglers were not fishing for them.
Over the years the lake has had huge fluctuations due to floods in the Big Sandy River watershed area.
One night the lake rose over 11 vertical feet, swamping boats and vehicles that were left along the shoreline.
But now, even though the lake is over 35 feet below what they would like it to be, it is still a great place to go and stay and fish.
Alamo Lake is now part of the Arizona State Parks system and has many amenities for campers, anglers or wildlife watchers.
There are full-service camping areas with water, sewer and electricity available.
Other areas have water and electricity, and public showers are available in several areas.
The cost for a site with electricity and water is $22 a night. A second vehicle is $15 a night.
You can reserve a site by going online to azstateparks.com/Parks/ALLA/index.Html or by calling the reservation center at (520) 586-2283.
The lake also has a store that sells licenses, some fishing equipment and even minnows and worms. They are open 8 a.m. till 5 p.m. They do not sell fuel, so make sure you have plenty.
The store's phone number is (928) 669-2088.
Recently my friend Mike Hulsey and I, along with Ryan and Laura Borden, made a trip to Alamo to check out the fishing.
For Hulsey, who had bought a Ranger 520 bass boat with all the amenities, this would be a trip back to where he grew up. His father, Bob, used to be the dam master for the Corps of Engineers and Mike and his family lived there for 13 years.
The fishing for the most part was so-so, but Hulsey figured out the bite and the last morning we were there he caught seven bass on top water and five on a spinnerbait.
Ryan and Laura each caught four fish while we were there, while I managed to put five in the boat.
While Hulsey and Ryan caught bass, Laura and I were the undisputed "catfish kings."
Using shad-colored crankbaits, Laura and I caught a number of the whisker fish up to 22 inches long.
But this was a catch and release trip, so all the fish went back in the lake to be caught again.
The one caveat about Alamo Lake is that it gets very hot there during midday and there are no trees or cover where anglers can find shade.
If you are towing a boat, it will take you about three hours to get to the lake. It is roughly 200 miles from Kingman.
You can go through Lake Havasu, Parker and Salome to get there, or you can go south on U.S. 93, turn off onto Highway 71 and go west until you get to U.S. 60. From there, go west to Wenden.
In Wenden, take the Cunningham Pass Road and Alamo Lake is 38 miles away.