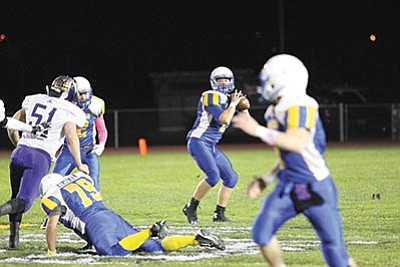 Originally Published: November 1, 2015 6:02 a.m.
KINGMAN - Wickenburg scored 27 unanswered points from late in the second quarter to early in the third to ruin Homecoming for Kingman High in the regular season's final game Friday at KHS, 48-29.
It was also KHS football coach Greg Tonjes's final game leading the Bulldogs after two seasons. Kingman went 1-20 with Tonjes at the helm. The coach resigned immediately following the game.
"There were a lot of tears and emotions after the game, but we have it set up for the future with what we've left," Tonjes said. "I love these guys. I'll bleed blue and gold for the rest of my life."
Wickenburg (5-5 Division IV, 4-3 Section III) led 14-0 after the first quarter, but Kingman (1-9, 0-7) narrowed the gap on a four-yard touchdown run by senior Garrett Stephens with 5 minutes, 30 seconds remaining in the half. The Wranglers then went on their tear, beginning with 14 second-quarter points and a 28-6 lead at the half.
Junior quarterback Nate Sinclair had his best outing of the year for the Bulldogs. He completed 10-of-20 passes for 193 yards and a touchdown, a 56-yarder to Stephens. Sinclair also rushed for 46 yards and scored a 2-point conversion. On defense, he had nine tackles.
Isiah Perez led Kingman with 67 yards rushing and two touchdowns. Sophomore Damon Heidorf registered 16 tackles and a sack for the Bulldogs defense.