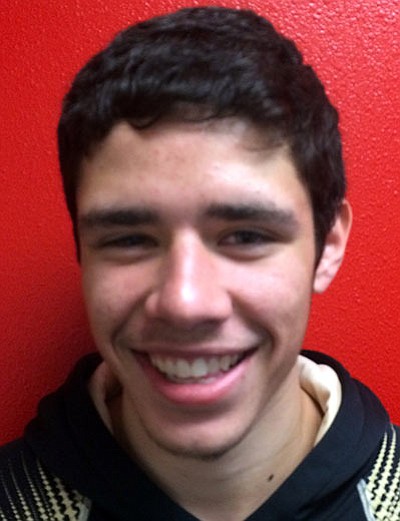 Originally Published: November 19, 2015 6 a.m.
KINGMAN - When Lee Williams High School senior Giancarlo Narvarte first learned to high jump less than three years ago when he was a freshman, he wore tennis shoes. When he put on spikes, he left scars on his arms and legs.
In what now appears to be a quantum leap, Narvarte, who stands 6 feet, 7 inches, has signed a National Letter of Intent to high jump for the University of Colorado. He became the first Lee Williams athlete to sign a scholarship offer, which is fitting because Narvarte became Lee Williams' first state champion when he won the high jump his sophomore year. He finished second last year.
"It feels pretty good," Narvarte said. "It feels good to have the ability to go through all of high school, get better and better, then go to college and do what I love. I love high jumping."
After his senior season this spring, Narvarte will begin his jump into the Pacific 12 Conference and prepare to compete against the likes of Arizona, Arizona State, USC, UCLA, Stanford, Cal, Oregon, Oregon State, Washington, Washington State, and Utah. Colorado assistant track and combined events and jumps coach Lindsey Malone believes the Buffaloes found what they needed.
"Giancarlo is an incredible addition to our team," Malone wrote in an email to the Miner. "He is not only a tremendous athlete, he is also a phenomenal person. Our team bonded with him immediately on his visit and he is the perfect fit to our team dynamic."
Narvarte wants to show Colorado it made the right choice by achieving his senior goal. When he was a freshman, Narvarte wanted to clear six feet. He did and placed ninth at state. His sophomore year it was 6-6, and he did. Last year, he wanted 6-10. He got it.
This year he wants to break the state record by clearing 7-2 1/2. That height would have earned him fifth place - at the NCAA Division I championships.
"I know just going there will help me get better," he said. "I know I can get a lot higher. Their coach knows high jumping and I'm excited for that."
Narvarte has cleared his path so he can high jump at the NCAA Division I level, but he's not done dreaming and setting goals for himself.
"I know in my heart I can go so much higher," he said. "I know I can have the Olympic goal as an option. It's definitely a dream. If I can go to the college level and improve, then the Olympics are the next level I want to reach. I'm excited to see if I can do that."
When he gets there, he'll have the scars to prove it.
More like this story