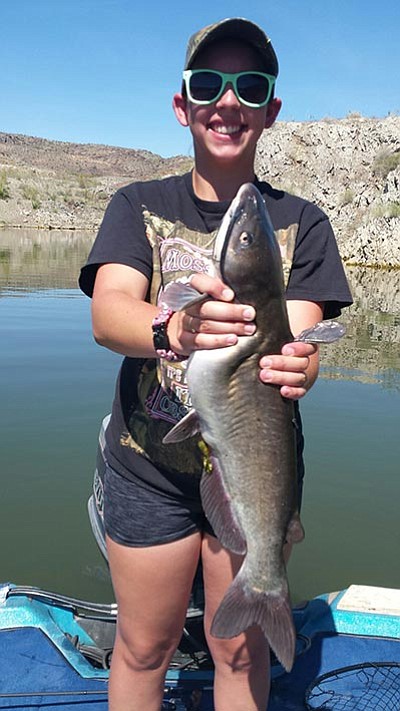 Originally Published: April 5, 2016 6:02 a.m.
The angler gently tossed the bobber to the end of the rock wall and waited patiently. Underneath the bobber, a small squirming minnow headed for what it thought was the safety of the submerged rocks.
But the hapless minnow was met by a big hand-sized crappie that slurped the minnow in and started to slowly swim back into the crevice it had been hiding in.
The angler saw the bobber move, and then go under.
She lifted the rod and started to reel in the line, and in no time yet another dark colored crappie, one of the best eating fish in Arizona, was in the live well.
This action would be repeated a number of times on a beautiful Sunday morning at Alamo Lake, a man-made impoundment that was formed by a dam constructed many years ago by the U.S. Army Corps of Engineers on the Big Sandy River in southern Mohave County.
The angler was Golden Valley resident Laura Borden. Laura and I were at the lake to take some well-earned time off. Laura is a straight A student at the Kingman Academy of Learning. She was going to be on spring break.
Laura is also enrolled in a Certified Nursing Assistant program, in addition to her full load of studies at the Academy. Add in her family responsibilities and the fast-paced life of a teenager, and it's easy to see just how busy she is.
Laura has also assisted me in the annual spring cleanup of the yard around my house, so this trip was a well-deserved reward.
Initially the plan called for us to meet a couple of friends at the lake, but due to scheduling conflicts only my friend, Buckeye resident Don Tirpak was able to meet us at the lake.
Don likes to fish, but would only have a day to fish with us.
Even though it is a long four-hour trip to this desert impoundment, I decided to take my fifth wheel trailer for us to stay in, and behind it would tow my Skeeter bass boat.
The plan was to leave early on a Thursday morning and make the trip to the lake, meet Tirpak and set up camp, and if there was time, go out and look at the lake.
Laura and I hadn't been to Alamo for over a year. In 2015 she and her brother Ryan, along with our friend Mike Hulsey, had spent a couple of days at the lake while they were out for spring break.
The bass and crappie fishing had been slow, but we caught a number of big channel catfish on spinner baits, and overall the trip was good.
This year, we heard that the crappies were biting at this warm water fishery, so that was going to be our main focus.
Arriving at the lake, we got found the camp spot that I had reserved online and set up the trailer.
Then it was off to the lake.
We were surprised to see that the lake had really gone down since we were there.
The Cholla ramp, where we normally launch our boat, was completely out of water.
The only place to launch was on a gravel and rock ramp that was about a mile from where we were camped.
As we drove around the lake it brought back memories of some great trips I've had here. Trips where we would catch 20-40 bass a day.
Sadly, those days are gone.
There are still plenty of bass in the lake, but constant pressure on this fishery has turned what was arguably the best bass lake in Arizona into one that is now mediocre at best.
But we were determined to make the best of it and our plans were that we would start off the next day trying for crappie near a tree mid-lake. Don had a couple of good bites but the fish wrapped him up in the brush before he could haul them out.
A little later, we decided to forgo any more crappie fishing and headed to the dam where the water was a little clearer.
I threw my favorite tube bait, an OOB, and caught two bass. One of them was a spawning female that weighed 3 pounds, 6 ounces. Both were released.
That afternoon the wind had come up so we decided to drift using crappie jigs and minnows. It was Laura who hooked up with our first crappie. As she got it to the boat, it got some slack line and became unhooked and started to swim away. But Tirpak was on his toes and managed to scoop up the fish with our net.
The crappie action was slow so we decided to try for catfish until sundown. We slowly motored up lake through the jungle of exposed trees until we were in less than 5 feet of water.
We tied up to some trees and started fishing with minnows and nightcrawlers. Once again it was Tirpak who got the first bites, but the cats he hooked dove into the brush under the boat and got off.
Finally Laura and I got into the action on the poles that had nightcrawlers on them. It didn't take long before we started putting some decent-size channel cats in the boat.
As we motored back to the launch ramp at dark, we knew if all else failed, we could catch catfish.
The next morning Tirpak had to leave so Laura and I decided to go back up lake and fish for catfish. We tied up to the same spot as the night before and set out our lines.
As the morning warmed up, so did the action. Using nightcrawlers for bait, the action was steady.
Laura and I both got cats and each of us managed to land a carp.
The highlight of the morning was when I hooked and landed a large freshwater soft shell turtle.
After a few pictures, the turtle was released back into the water, unharmed.
We took a break around noon but we had the live wells full of some good fish. The daily limit on catfish is 10 per day and Laura and I each had a half limit.
That afternoon we decided to go back out and fish for more cats, so that we were assured of bringing home some good eating fillets.
The action in the afternoon was good once more. It was just at sundown that both of us finished off our limit of the whisker fish. Our best catfish weighed 4 pounds, 15 ounces.
We went to the fish cleaning station at Cholla and a man and wife brought up 23 nice slab crappies.
They were nice enough to tell us their secret and where they had caught them.
Turns out the "secret" was just minnows that you can buy at the store that were fished on a light wire hook with a very small splitshot attached,
We cleaned our catfish and prepared to fish for bass the next morning as we didn't have any minnows.
Sunday morning dawned bright and clear, so Laura and I both threw top water lures for bass. We never got a strike.
At 8 a.m. I dropped Laura off at the dock to go buy minnows at the store.
When she got back, we headed to the cove where we had been told there were a lot of crappies.
In the next four hours Laura got seven crappies while I got one, but I also got four largemouth bass.
She also hooked and landed two big channel cats.
It was a good trip and we had a lot of action.
If you want to go to a lake where you can catch a lot of different species of fish, then Alamo is the lake for you. It was opened in 1969 and currently has storage of just over 50,000 acre feet of water. It is fed by several streams including the Big Sandy.
The Alamo Lake store (928-669-2088) has bait and tackle. You can also make reservation for the various camp sites within the Alamo Lake State Park by going online or by calling the above number.
There are camp sites that range from primitive with no amenities to full hookup camp with water and electricity. Fees are reasonable, and again depend on what amenities you want.
I noted that the park recently opened cabins that have two bedrooms and are air conditioned.
The park staff are friendly and they are always willing to help.
And whether you go through Lake Havasu or down on Highway 93 to get to this jewel in the desert, the road to the lake is paved.
March, April and May are my favorite times to fish at Alamo.
In the summer months it gets very hot, even though the fishing generally remains good.