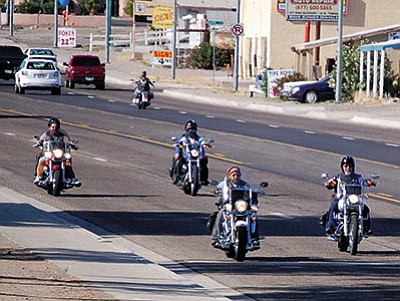 Originally Published: April 27, 2016 6 a.m.
KINGMAN - The Laughlin River Run starts today and ends Sunday and that means Bullhead City Police will send out extra patrols on already heavily congested roadways in Bullhead and across the Colorado River in Laughlin, Nev.
The goals are to deter criminal activity and to help make the five-day event as safe as possible, according to Bullhead City Police spokeswoman Emily Fromelt.
Fromelt said Highway 95 will be particularly congested. She reminded drivers that all vehicles have blind spots when only mirrors are used, so put your head on a swivel.
Fromelt also encouraged motorcycle riders and their passengers to wear helmets, even in Arizona, where it is legal for adults to ride without a helmet.
Nevada and California, however, have mandatory helmet laws and they will be enforced, she said.
Also, splitting lanes (when motorcyclists ride between lanes of cars) is illegal in Arizona.
Eye protection is required in the state.