Originally Published: August 3, 2016 6 a.m.
DIG It Kingman Community Gardens held a Dedication Day on Saturday morning to thank Garrett Hoffman, who built a ramada in the garden grounds for his Eagle Scout project, and those who contributed to his project. Boy Scout Troop 19 members Brendon Allred and Evan Esplin were also on hand to perform a flag ceremony.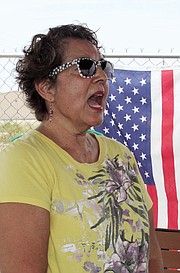 Garrett's grandmother Kathy Nabors gave an invocation. Laurie Barthlow, whose great-grand mother once lived next to the garden's location and whose family donated four convertible benches, was keynote speaker. Rosemary Grinstead sang the Star Spangled Banner.
Certificates of Appreciation were handed out to representatives of the City of Kingman, Angle Homes, True Value, Desert Construction, Canyon State Enterprises LLC, the Hoffman family, Troop 19, the Marie Hendrix Arther family, Kingman Golden Valley Association of Realtors, Home Depot, ABC Supply Co. Inc., Dig It Dash sponsors and participants and garden volunteers.

Garrett spoke at the ceremony, saying, "When I was 8 years old, I started Cub Scouts. I remember looking up to the older boys and wanting to be just like them. Now I am almost to that goal and glad I stuck with it. Being an Eagle Scout is a big accomplishment. Only about 6 percent of boys who start Boy Scouts become Eagle Scouts. The things I have learned in Scouting will help me throughout my life." He expressed thanks to many, including Denise Neath and Mike Roundy (who helped introduce the speakers) and other members of the DIG It Gardens committee.
"I decided I wanted to help the community garden after reading about the vandalism they dealt with. This project ended up being longer and harder than I thought it would be. But because of that, I was pushed and learned that good things are worth hard work. I hope it is enjoyed by gardeners for many years."
More like this story
SUBMIT FEEDBACK
Click Below to:
This Week's Circulars
To view money-saving ads
For as little as $3.49*