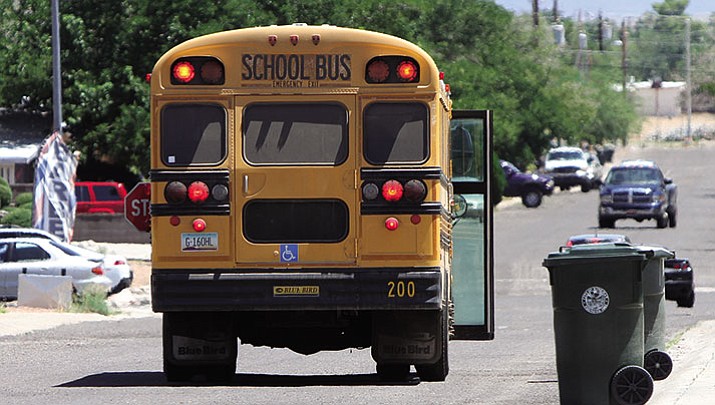 Photo by JC Amberlyn.

Originally Published: August 8, 2016 6:03 a.m.
KINGMAN – The beginning of the school year usually invites a storm of confusion. Bus schedules are just part of that storm.
Kingman Unified School District completed its first week with new bell and bus schedules that have been adapted to accommodate the new four-day school schedule. Logistical bugs are still being fixed and recent thunderstorms haven't made things any easier.
Kingman Unified School District Superintendent Roger Jacks, Transportation Director Craig Schritter and 10-year veteran bus driver Mike Meehan explained the complexities of district bus operations. Transporting roughly 6,200 K-12 students involves plenty of moving parts.
KUSD has 75 buses covering 3,300 square miles. Each bus can carry up to 84 passengers, but 50-60 students is more realistic.
"We have some of the longest routes in the nation," said Meehan. Some of those routes extend to Meadview, Peach Springs and Wikieup. There are 56 regular and special needs/handicap accessible routes.
There are currently 59 bus drivers. Nineteen bus monitors assist special needs and handicapped children. Three dispatchers anchor communication between drivers and district headquarters.
Meehan covers Golden Valley routes and drives up to 180 miles a day. Some drivers cover up to 200 miles a day.
The workload can be a turn-off for new drivers not knowing what to expect. Hours range anywhere from 3 a.m. to 8 p.m. Some shifts are split-day, meaning a driver will work a few hours in the morning, take time off in the afternoon and return in the evening.
Drivers have to juggle the distractions of children, traffic and weather.
"You have to be able to multitask," Meehan said. "You got to watch the road and keep an eye on the kids."
Child behavior can be the biggest challenge. Their inability to sit still, attempts to distract the driver or throw things out windows are just a few of the everyday trials of driver fortitude.
Meehan said he warns trainees about the hazards of the job.
"It's gonna be loud," he said. Drivers have to be a mediator and a negotiator. "There's a lot of hats to wear in this job."
He said kids will be kids and try to cause a ruckus, but a driver has to solidify their position as the authority figure immediately.
"You got to be good with kids," Meehan said. "That's the big thing."
Jacks, Schritter and Meehan all agreed that parents need to work with their kids to ensure they know the right bus and right routes. Bus schedules are posted on the KUSD website.
Students may not know their stop the first few days of school. Getting a ride in the in the morning but taking the bus home in the afternoon plays a huge role in the confusion. If a student misses their bus stop on the afternoon ride home, drivers contact dispatch, who then contact the school or parents to set up a meeting place at either the school or transportation office to get the student safely home. KUSD policy demands kindergartners be met by parents.
Many roads in Golden Valley and on Stockton Hill Road north of Kingman have been damaged by recent thunderstorms, causing last minute route changes. The district has a "One-Call" automated alert system that notifies parents in those areas as soon as possible in the event of inclement weather.

Meehan and Schritter said drivers have the authority to adjust routes for safety concerns.
"Safety is our number one concern," Schritter said.
Drivers begin a route with a Pre-Trip Mechanical Inspection before leaving the bus depot. They check for flat tires, leaks and overall functionality. Each bus goes through an annual inspection by Arizona Department of Public Safety.
Drivers are randomly selected for drug and alcohol tests and are automatically tested after an accident. If a test is positive, the driver is removed from the position and may be terminated depending on the situation.
Shortage and turnover
Jacks said there's a bus driver shortage. Not just in Kingman, but nationwide. Drivers are required to have a Commercial Driver License with passenger, school bus and airbrake endorsements. They also have to be CPR and first aid certified.
New drivers are paid $9.25 an hour during an unspecified training period and $10.35 an hour once they start. Benefits start after a 60-day probation period for drivers who work more than 30 hours a week, which Jacks said most do.
District incentives include paying for the applicants' CDL. A $1 hourly pay raise and a 3.5 percent pay increase on top of the dollar raise has been added for drivers who've been with KUSD since March 21.
Jacks said KUSD's driver shortage and high turnover rate is attributed to higher paying opportunities from commercial trucking and bus companies, including Grand Canyon West.
"Other opportunities open up," he said.
Applicants go through stringent background checks. Schritter said about 60 percent of those screened are hired, but only about 35 percent of those hired stay on for a reasonable amount of time.
"We also have loyal drivers," Schritter said as he pointed at Meehan.
Improvements
KUSD's goal is that buses leave a school no later than 10 minutes after the last bell rings.
"We want to minimize the amount of time students spend on buses," Jacks said.
Jacks and Schritter say times have improved. In the first few days, buses went from being 20 minutes late to leaving the gates under the ten minute requirement. Safety is paramount and lost time can't be made up.
"It's not like a jet airliner where they leave 30 minutes late on a flight and make the 30 minutes up in the air," Jacks said.
The bus and bell schedules can be viewed by school at www.kusd.org under the "Parent Resources" tab.
More like this story