Bulldogs learning but more about discipline than football

Originally Published: August 14, 2016 6 a.m.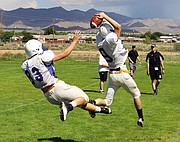 KINGMAN – Friday's practice for the Kingman High School football team was filled with plenty of hard work. There were glimpses of both lines, the offense, defense and special teams.
Those areas are moving ahead for the Bulldogs, but coach Cam Wierson continues to wrestle with commitment and discipline among his players and the players' families.
"We're not going to be okay when we're asked to throw a football team together in two weeks," Wierson said. "I should be able to have two-a-days on Fridays and Saturdays, but I can't get the commitment."
Though that continues to plague Wierson and the things he wants for the football program, he acknowledges there have been some small victories.
"We're steering the culture in the right direction," the coach said. "We're having some success with the kids who don't want to play football. The kids who can't hack it aren't sticking around."
When he does get the Bulldogs on the football field, Wierson believes way too much time is used up on discipline.
"We're trying to teach these kids to start hard and finish hard," he said. "Be disciplined by starting behind the lines, touching all the lines, and finishing through the lines. We're spending too much time on building discipline when we're not very good football players."
Kingman has only four seniors on the squad, and that has Wierson upbeat about the future. He sees this season as setting a foundation for next year, as long as the commitment and discipline issues get handled.
"We do have some kids who are showing flashes of being good, tough kids," Wierson said. "But we're not there yet. They are starting to buy in."
Kingman has two weeks before hosting Lee Williams in the season opener on Aug. 26.
More like this story
SUBMIT FEEDBACK
Click Below to:
This Week's Circulars
To view money-saving ads
For as little as $3.49*