Originally Published: August 17, 2016 6 a.m.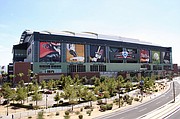 PHOENIX (AP) – The Maricopa County Stadium District's board of directors is scheduled to meet Wednesday to consider possibly selling Chase Field, home of the Arizona Diamondbacks, to private investors.
County officials said in a statement Tuesday that the board will discuss and vote on whether to sign a letter of intent with Integral Group, LLC, identified as "a potential purchaser."
They said the minimum purchase price would be $60 million and current agreements would remain to keep the Diamondbacks at the downtown Phoenix ballpark through the end of the team's contracted tenancy in 2027.
The letter of intent would allow the county to choose the appraiser and the potential buyer to visit and inspect the property.
The vote comes amid tension between the county and the Diamondbacks over who's financially responsible for as much as $187 million in repairs to Chase Field over the next 12 years.
Team officials have suggested recently they might seek a way to leave the ballpark before their current contract with the county ends.
A lawyer representing Integral Group has already told county officials that the potential investors want to keep the Diamondbacks at Chase Field and would complete stadium improvements agreed on by the team within a two-year window.
The ballpark opened in 1998 for the Diamondbacks' inaugural season. It is owned entirely by the county despite a team investment in its construction.
County officials said as facility manager, the Diamondbacks would have to agree to any stadium sale.
Diamondbacks officials submitted letters to county officials in June and July requesting funding for repairs for the fifth oldest ballpark in the National League.
One letter sought reimbursement for about $650,000 in improvements the team made to suites, the dugout, concession areas, locker rooms and heating and cooling systems. County officials denied some items and said others might be approved with additional documentation.
The other letter outlined about $64 million in proposed repairs over five years, from replacing scoreboards to renovating party lounges.
County officials agreed to continue funding structural issues such as repairs to concrete and steel, but denied other expenses as superficial
More like this story
SUBMIT FEEDBACK
Click Below to:
This Week's Circulars
To view money-saving ads
For as little as $3.49*